Technological evolution has reshaped the way businesses operate, innovate, and interact with customers. Embracing and adapting to technological advancements is crucial for businesses to remain competitive, agile, and relevant in today's rapidly changing landscape.
Implementation of ERP software empowers organizations in the automotive industry with the tools and insights needed to streamline operations, control costs, and enhance product quality. SAP is an intelligent business suite that helps carmakers revolutionize their automotive companies.
What are the specific requirements in the automotive industry, and why is the ERP system very important in this field? With SAP, carmakers can have all business operations, including sales, customer service, finances, and investment, in one place. Like any transformative technology, SAP comes with its own set of advantages and challenges.
In this article, we will discover the impact of SAP implementation in automotive businesses, uncovering its game-changing impact on efficiency, innovation, and competitiveness. Whether you're in the driver's seat of an automotive business or simply curious about the future of the industry, this article is your key to understanding the dynamic synergy between SAP and automotive innovation.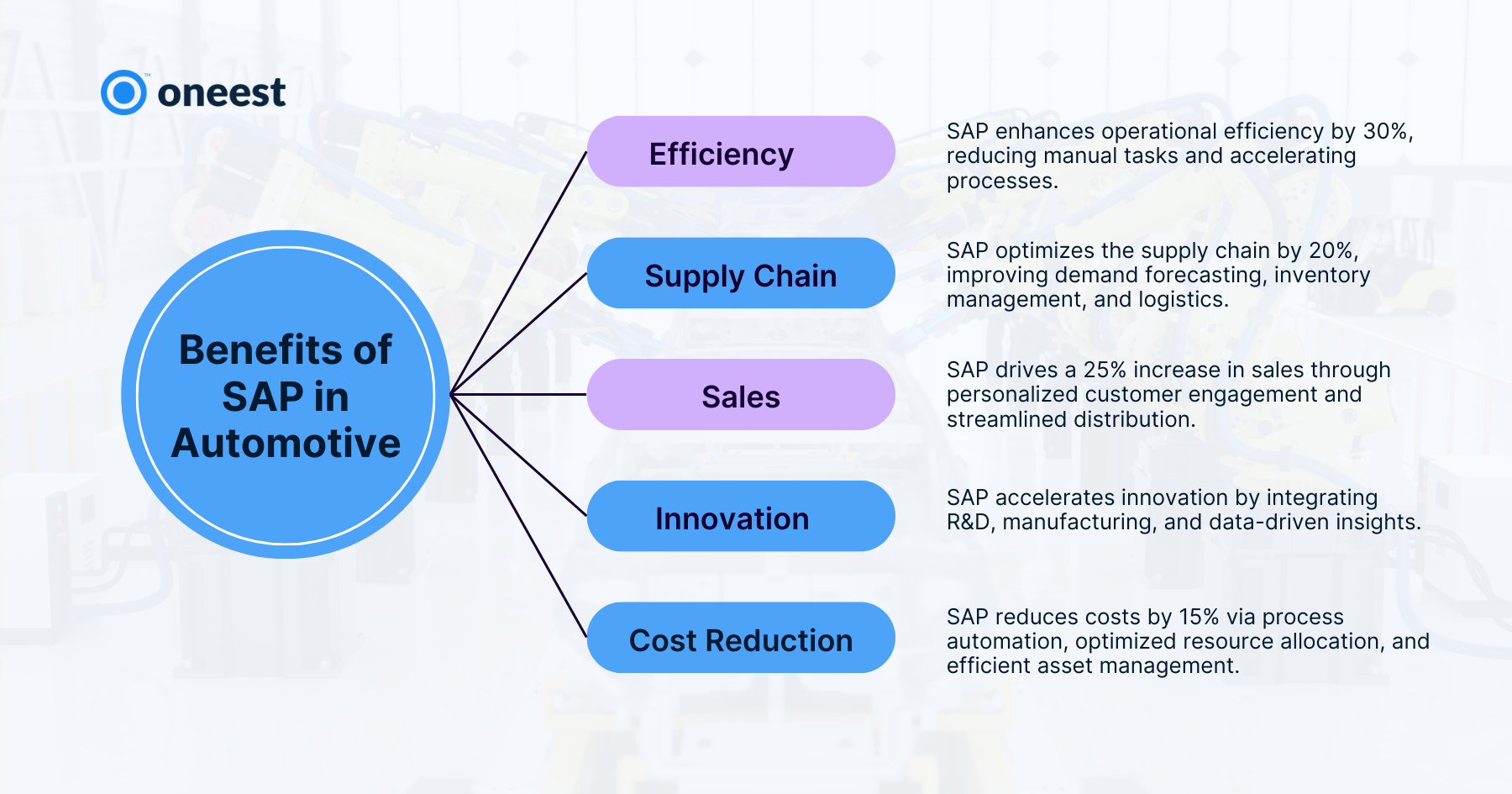 A brief overview of SAP
SAP stands for System Analysis Program Development. It is a widely used Enterprise Resource Planning (ERP) software suite that offers a range of integrated modules to manage various aspects of a business.
SAP offers solutions for different business areas such as finance, CRM and customer management, digital supply chain, HR and people engagement, industry solutions, digital transformation, and others.
In the automotive industry, SAP has a significant impact on businesses by providing tools and solutions that streamline operations, enhance collaboration, and improve overall efficiency.
SAP's role in the Automotive Industry
The automotive industry is considered one of the fastest-growing and emerging industries. Automakers are striving to improve customer satisfaction, deliver premium services, reduce costs, and optimize production and supply chains.
SAP has a significant role in the automotive industry by providing a wide range of software solutions tailored to meet the unique needs of automotive manufacturers and suppliers. We've carefully selected some key aspects of SAP's role in the automotive industry:
Enterprise Resource Planning (ERP)
SAP's ERP software helps automotive companies streamline their business operations, including finance, procurement, production planning, and inventory management. It enables real-time data visibility, efficient resource allocation, and cost control. Some of the top automotive companies, including BMW, Volkswagen, Mubea, Toyota, and TRW Automotive, are using the SAP automotive ERP solution.
Supply Chain Management
SAP's supply chain solutions assist automotive companies in optimizing their supply chain processes. SAP Supply Chain Management is one of the key modules in SAP ERP. This includes demand forecasting, inventory management, order tracking, and supplier collaboration, all of which are critical in managing complex automotive supply chains.
Manufacturing Execution
SAP offers manufacturing execution systems (MES) that enable automotive manufacturers to monitor and control production processes on the shop floor. Based on Industry 4.0 technology, SAP MES is using a cost-effective, high-quality, and resource-efficient methodology to digitize manufacturing processes and integrate business systems. This helps in achieving higher production efficiency, product quality, and adherence to industry standards.
Connected Car Solutions
As the automotive industry embraces digital transformation, SAP offers solutions for connected cars and the Internet of Things (IoT). These solutions enable manufacturers to collect and analyze data from vehicles, improving vehicle performance, safety, and customer experiences.
Dealer Management Systems
Automotive dealers often rely on SAP's dealer management systems (DMS) to manage their sales, service, and parts operations efficiently. This includes inventory management, sales tracking, and customer service functionalities.
Analytics and Business Intelligence
SAP provides powerful analytics and reporting tools that allow automotive companies to gain insights from their data. This helps in making informed decisions, optimizing operations, and identifying areas for improvement.
According to SAP's website, approximately 80% of automotive organizations consider it important to collect and analyze vehicle data to predict outcomes for design, service, safety, and operations, but only 20% can do so.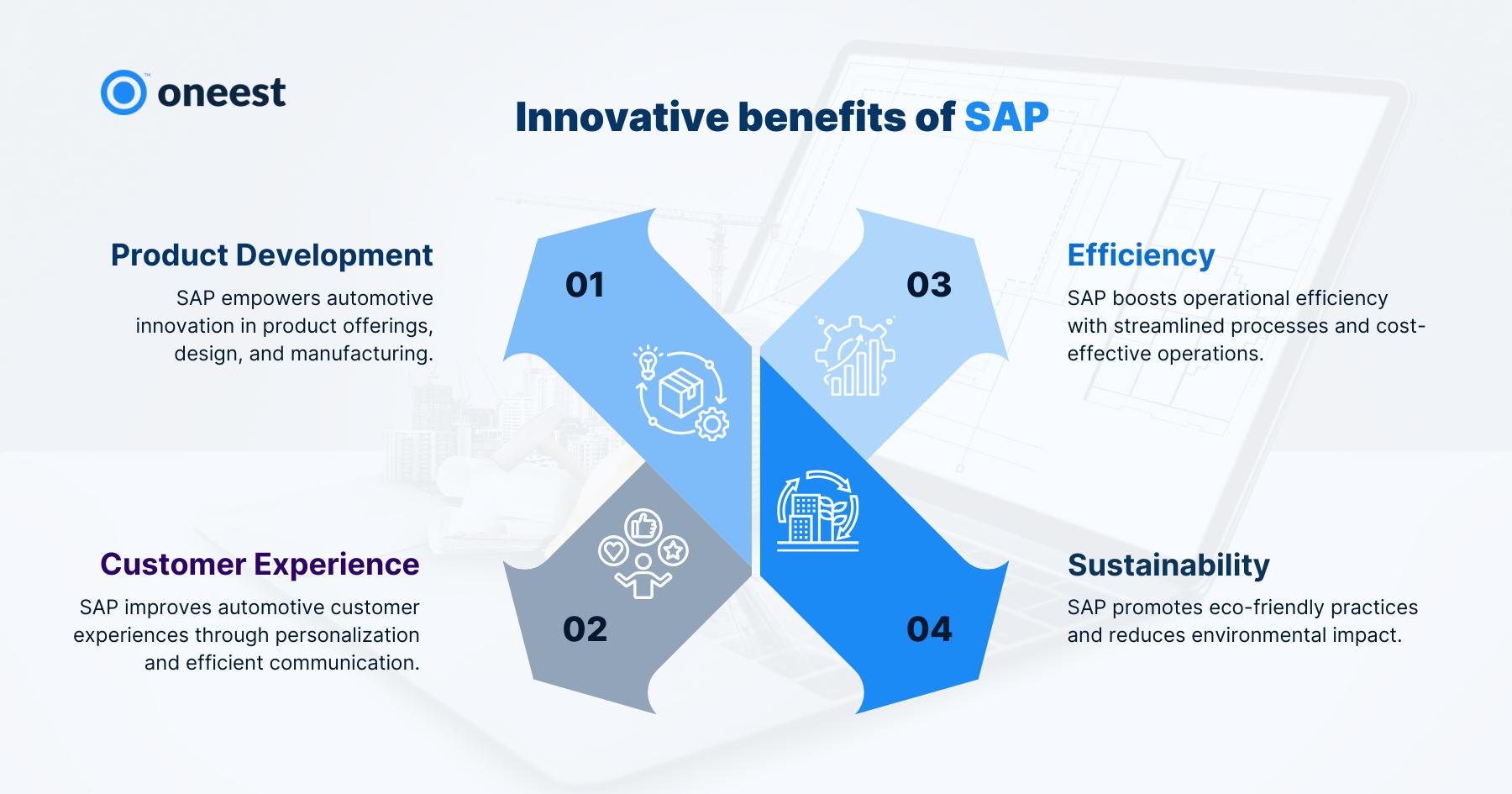 Pros of implementing SAP
Implementing SAP at automotive companies can offer numerous advantages. SAP is a leading enterprise resource planning system that helps organizations streamline their operations, improve efficiency, and make data-driven decisions.
Some benefits of implementing SAP in automotive companies are:
1. Enhanced Efficiency
A single, centralized solution for all business areas and centralized data management;
Streamlined business processes to suit market needs as the company grows;
A 360-degree view of the manufacturing processes with analytics to monitor continuous improvement.
Overall, the implementation of SAP ERP helped carmakers improve operational efficiency, reduce costs, increase productivity, and make better decisions, all of which contribute to the competitiveness and success of automotive companies in a highly dynamic and competitive industry.
2. Supply chain optimization
SAP helps carmakers create a fast, responsive, and resilient automotive supply chain;
Enhanced supply chain visibility helps in reducing lead times, minimizing stockouts, and lowering overall logistics costs;
SAP Solutions support real-time demand management and order promise, green and sustainable supply chain management, smart warehousing, transportation, and logistics.
Efficient supply chain management is essential for every business. Implementing SAP in automotive companies can significantly enhance supply chain management by providing real-time visibility, data-driven insights, and streamlined processes. This leads to improved demand forecasting, optimized inventory levels, enhanced supplier collaboration, and reduced lead times.
3. Improvements in sales and marketing
SAP helps create full 360-degree customer profiles and personalized engagements for a unique customer experience;
SAP CRM capabilities help automotive companies better understand and engage with customers;
SAP also helps to optimize the vehicle distribution chains and allows smooth billing and buying experiences.
SAP helps marketing and sales teams accelerate performance and grow revenue. Real-time sales data and analytics empower sales teams to make informed decisions and enhance customer relationships. SAP Marketing Cloud is a valuable tool for companies looking to improve their marketing efforts and enhance customer engagement. It is part of SAP's broader portfolio of customer experience solutions aimed at helping businesses deliver exceptional customer experiences across all touchpoints.
4. Improved innovation and research
SAP Solutions integrate everything, from R&D and manufacturing to aftermarket services and mobility;
SAP supports research and development efforts by managing product lifecycle data and facilitating collaboration among teams;
Automotive companies that use SAP innovate based on actual vehicle data, incidents, customer feedback, and market analysis.
Implementing SAP can positively impact innovation and research efforts within an organization, especially when it comes to managing data, collaboration, and resource allocation. While SAP can provide valuable tools and processes to enhance innovation and research, its successful implementation also depends on factors such as organizational culture, leadership support, and the alignment of business goals with innovation objectives.
5. Cost Reduction
SAP helps automate and streamline various business processes, reducing the need for manual intervention. This can lead to significant time and labor cost savings;
SAP solutions help to better allocate resources. With real-time visibility into financial data and resource utilization, carmakers can optimize resource allocation, reducing overstaffing or underutilization of assets;
SAP's asset management modules can help schedule and plan maintenance for production machines more efficiently, reducing unexpected breakdowns and associated costs.
Implementing SAP can lead to cost reductions in several areas of the automotive company. However, the specific cost savings will vary depending on the company's size, processes, and the extent to which SAP is implemented.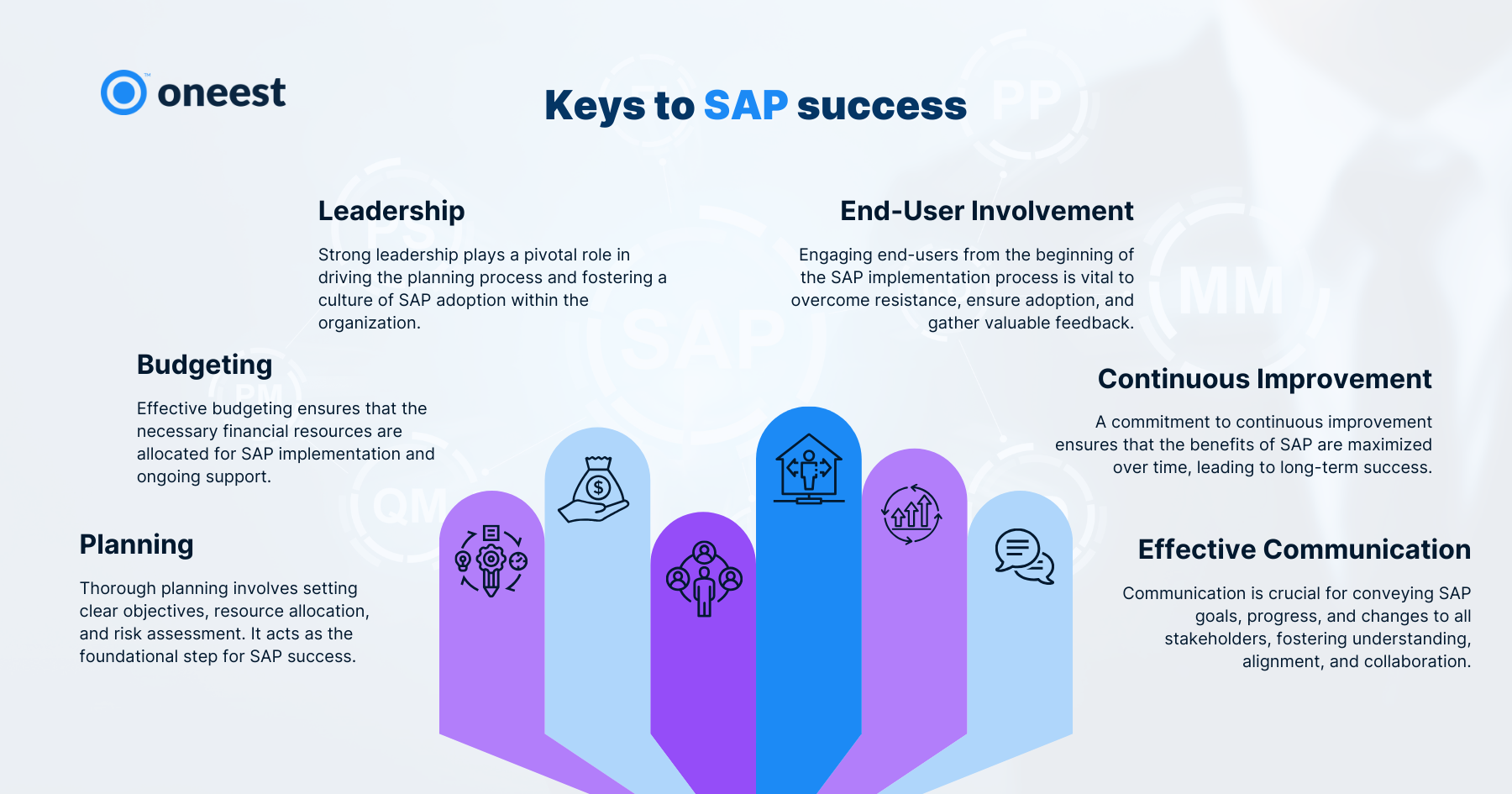 Cons and Challenges of SAP adoption
Adopting SAP in an automotive company can lead to significant operational improvements, but it also comes with substantial challenges and costs that carmakers need to consider. Careful planning, effective change management, and ongoing support are essential for a successful SAP implementation in this industry.
We've selected some common challenges faced by companies in adopting SAP:
Cost of SAP services and implementation. The cost of implementation is one of the biggest challenges faced when implementing SAP. Companies tend to consider the high costs associated with training, support, and maintenance of the software. However, SAP offers different personalized payment plans that depend on the number of users, the usage of SAP Cloud, the dimension and complexity of the organization, and additional services.

Complex data migration process. SAP is a highly complex and customizable system. Implementing and customizing it to fit the unique needs of an automotive company can be challenging and time-consuming. Its implementation requires a dedicated team of IT professionals and business experts. It can strain existing resources and disrupt day-to-day operations during the transition.

Security concerns. Automotive companies deal with sensitive data, including customer information, supplier details, and intellectual property. SAP systems can become targets for cyberattacks and data breaches if they are not properly secured. Also, automotive companies often work with third-party vendors and service providers who may have access to their SAP systems. Ensuring that these vendors follow stringent security practices is vital to preventing potential breaches through third-party connections.
Many automotive companies rely on SAP ERP systems. At its best, SAP can be a great helper in all business areas, but if SAP systems aren't properly managed, they can create more problems than they solve.
Case Studies: Success stories of SAP implementation
One of the largest tire companies, Goodyear, with over 64,000 employees on six continents, recently implemented SAP/4HANA. Before implementing SAP, Goodyear used multiple and separate ERP systems.
The first implementation was in the finance sector, which allowed them to provide fully transparent data globally for the first time in their history. This allows Goodyear's finance professionals to make better decisions based on real-time data.
Currently, Goodyear is using finance and planning for central procurement. Also, they have SAP Analytics Cloud to leverage real-time analytics and planning, and they integrated SAP SuccessFactors, SAP Concur, and SAP Fieldglass solutions.
Indus Motor Company, based in Karachi, Pakistan, is a subsidiary of Japanese multinational carmaker Toyota Motor Corporation, which successfully started its journey of business transformation in 2015.
Indus Motor is an authorized assembler and manufacturer of Toyota and Daihatsu vehicles, auto parts, and accessories in Pakistan. Therefore, they are required to have controls and reporting in place and maintain high standards of compliance. Since 2004, they have been working with SAP systems, and finally, in 2015, they took the decision to upgrade to SAP/4HANA.
The main benefits that Indus Motor got from SAP implementation were:
Efficient book closing: Instead of eight days, it takes only three days for efficient book closing at the end of the financial period. If we are talking about numbers, it saves the company up to 800 hours, which is approximately $200,000 in employee time.
Better material requirements planning: The process of running material requirements planning now takes twelve minutes instead of four hours and helps prevent the loss of production that could cost $250,000 a year.
Better quality management: Because defect consolidation is now done immediately instead of once a week, Indus Motors saves about $10,000 for every minute of production.
The BMW Group, a leading global premium carmaker, has shifted its operations to the comprehensive RISE with SAP cloud solution. This decision is set to revolutionize the way the BMW Group operates and allow for a more innovative approach.
Integrating the cloud strategy with the advances of the SAP S/4HANA framework will allow the BMW Group to transform its crucial business segments, including finance, parts supply, supply chain management, and manufacturing. These innovative solutions, along with the creative enterprise transformation program RISE with SAP, will be essential in moving the BMW Group into a new phase of success.
Implementing RISE with SAP is important for transitioning to a digital, intelligent enterprise. The SAP cloud solution is used to provide a single place for managing all the IT needs of the business. It enables companies to securely and seamlessly manage their business processes and applications across multiple cloud providers.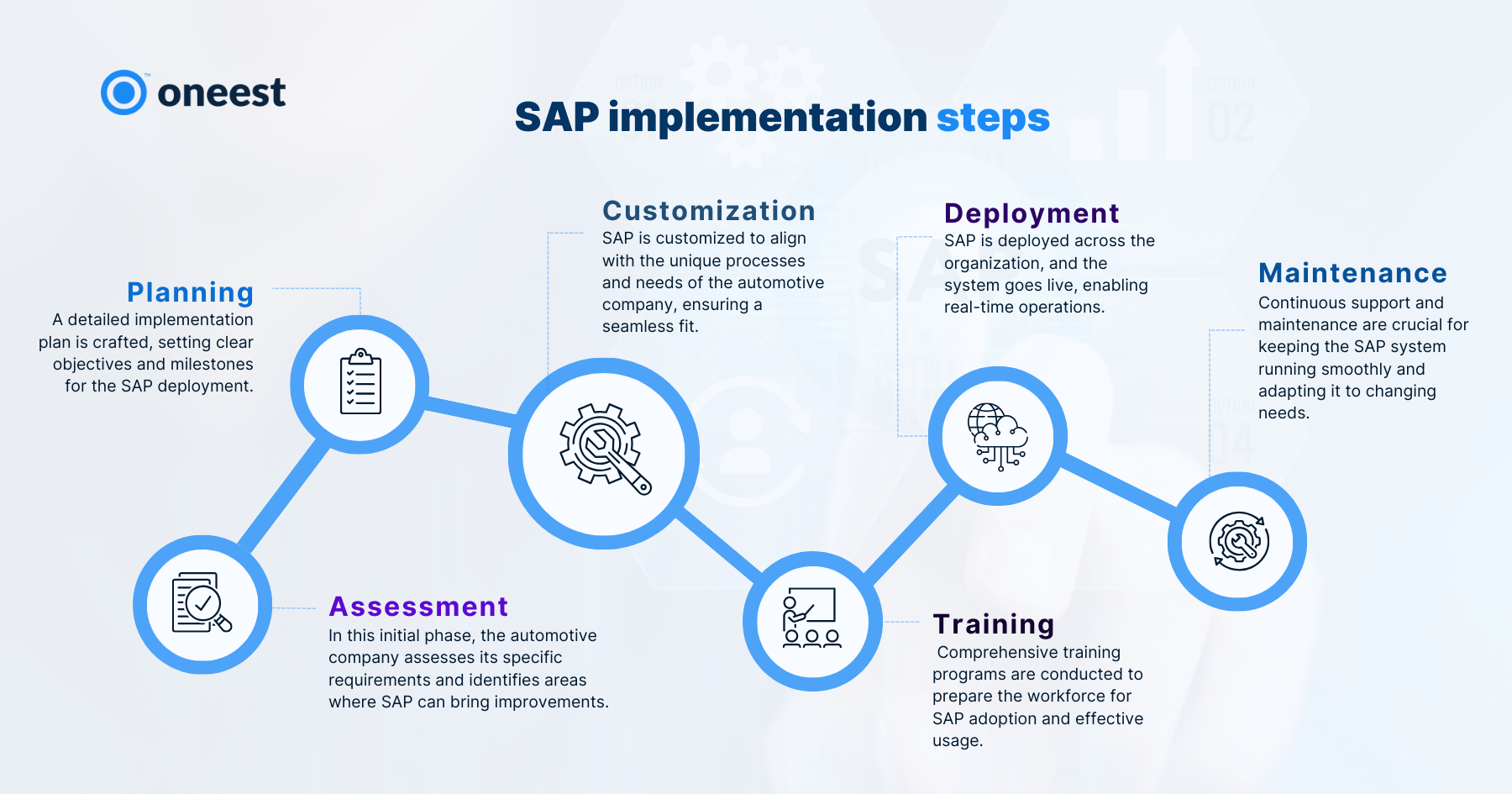 Common mistakes in SAP implementation and how to avoid them
Implementing SAP is a complex and resource-intensive process for a business. Developing a comprehensive project plan that includes clear objectives, timelines, resource allocation, risk assessment, and engaging stakeholders early to align expectations is crucial. Rushing into implementation without proper planning is a mistake that can lead to its failure.
Also, a common mistake is the wrong estimation of the need for financial and human resources, resulting in insufficient resources for business transformation. Conducting a thorough resource assessment and securing the necessary budget, skilled personnel, and hardware and software infrastructure is a must. Likewise, an efficient solution is considered to be outsourcing or hiring SAP consultants if expertise is lacking in-house.
Another pitfall in SAP implementation is neglecting to involve end-users in the process, which can result in resistance, poor adoption, and ultimately, project failure. Therefore, involving the end-users from the beginning, conducting thorough user training, and gathering feedback to address their needs and concerns is an important part of a successful SAP implementation.
By being aware of these common pitfalls and mistakes and taking proactive steps to address them, automotive companies can significantly increase the chances of a successful SAP implementation that meets their business objectives and delivers a positive return on investment.
Wrapping Up
The adoption of innovative technologies and solutions in the automotive industry has undoubtedly brought significant benefits to automakers. Through SAP's innovative technologies, automotive manufacturers and suppliers can optimize their operations, streamline supply chains, enhance product development, and elevate customer experiences.
However, this transformation journey is not without challenges. The initial investment in SAP solutions can be substantial and requires careful budgeting. Furthermore, the integration process can be complex and time-consuming, requiring significant employee training. Also, the automotive company must address security concerns associated with the digitalization of their operations.
However, if you have a trustworthy partner close by, you can easily overcome all of these difficulties. With proper planning and evaluation, you can ensure that the implementation will be smoothly completed on time and within budget.
If you are looking to leverage ERP solutions for your automotive business transformation or require expert guidance on software development and integration, our dedicated team at Oneest, a custom software development company specializing in custom ERP software, is here to assist you. Get in touch with us today to discuss tailored solutions for your business.
Also, don't miss the opportunity to hear about the latest trends in the tech industry. Visit our blog for more informative articles and industry news. Discover insights into cost-effective ways to build custom software and learn about the advantages of having a dedicated team for your projects.