Online marketplaces have been changing customers' buying behavior for the past few years. With a click of a button, people can easily buy or sell products or services. Most of these transactions take place online through online marketplaces. But what are online marketplaces, and how have they transformed the way we shop?
Just imagine that, according to Statista, around 65% of the world's population uses the Internet. Now transform this number into potential customers for your business. Doesn't it look like a great opportunity and a huge market?
Get ready to discover the world of online marketplaces and learn how you can take advantage of this booming trend.
What is an Online Marketplace: A Quick Definition
Before we start, let's explore what an online marketplace is.
In a nutshell, it is a platform that connects businesses or sellers and their products or services with potential customers.
A great thing is that online marketplaces have many features for transactions between buyers and sellers. Online shopping became easier and faster thanks to payment processes, shopping carts, product listings, and fast shipping.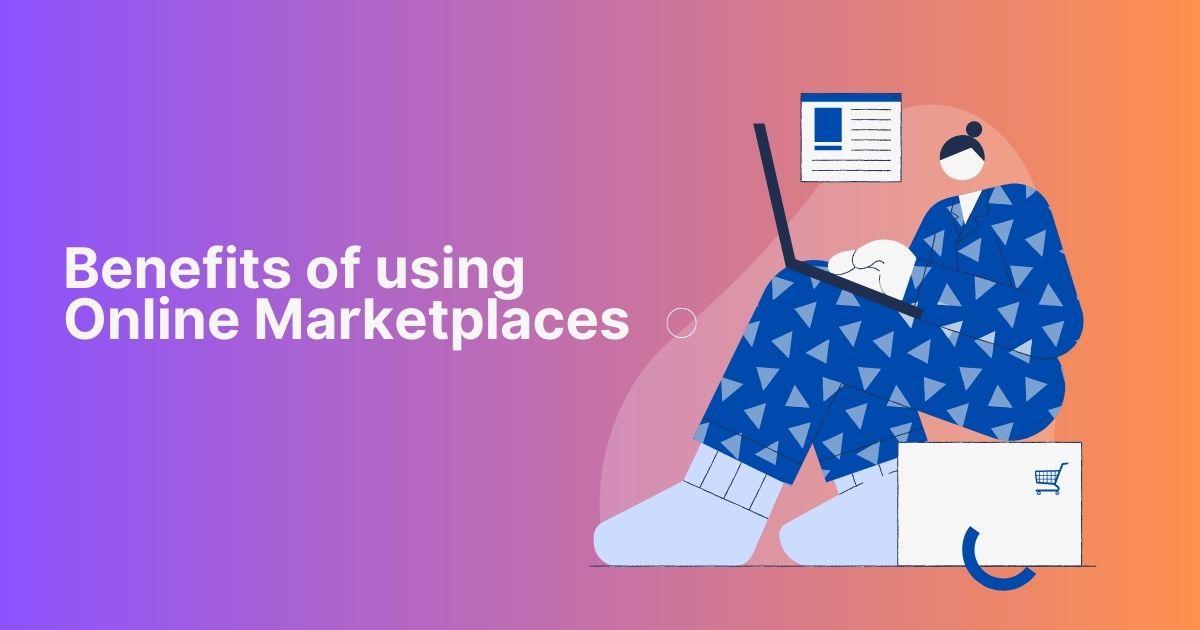 The Importance of Online Marketplaces
Online marketplaces offer several opportunities and benefits for your business. Here are some reasons why they can be important:
Online marketplaces offer you access to a larger customer base and new markets. It becomes easier to find new clients. As a result, your sales and revenue will rise.

Online marketplaces help to save costs. Compared to setting up a brick-and-mortar selling point, your time and resources can be saved thanks to online platform infrastructure, features, and tools such as secure online payments, quick customer support, and fast delivery.

Online marketplaces can generate valuable data about your users, their behavior, preferences, and trends. You can track important data about clients, such as purchase frequency, history, preferences, and criteria for choosing products. Collecting customer data can help you build marketing strategies and forecast future revenue streams.

An online marketplace is a great opportunity for niche markets. It can cater to specific niche markets that may not have a strong presence in traditional retail settings, providing a platform for niche sellers to connect with their target audience.
Now, you may be thinking - what makes an online marketplace truly successful?
In this article, we've collected 10 great examples of the most successful marketplaces on the globe. These can be a great source of inspiration and motivation for you to build your own. So, are you ready to join the ranks of successful marketplace owners? Let's get started!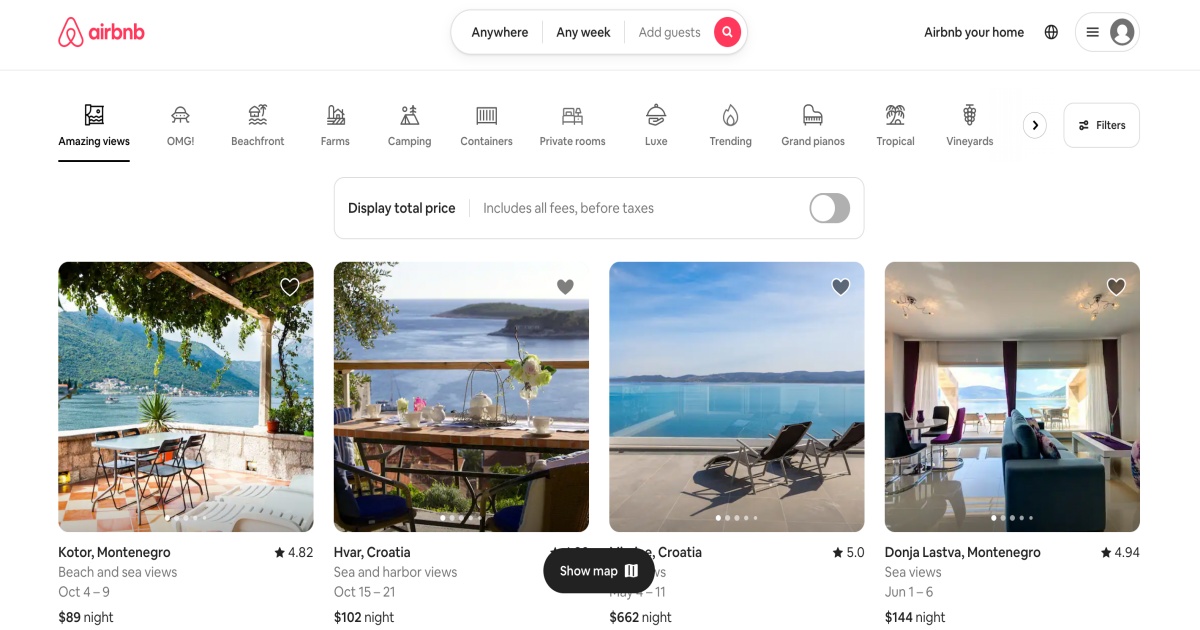 Image: Airbnb
AIRBNB
A great example of a successful marketplace is Airbnb. Have you ever thought about why, when searching for accommodation, the first app that comes to mind is Airbnb?
A curious fact is that the story of this marketplace starts with "an air bed and breakfast" when the founders of Airbnb were broke and had problems paying the rent. The first property listed on Airbnb was their own apartment. They targeted attendees of events in San Francisco who were looking for low-cost accommodation. If you want to hear the entire story of Airbnb's founding, you can watch this video.
Today, Airbnb expanded globally, launching in cities all around the world. Airbnb's marketplace business model is a P2P platform. The Airbnb business model is different from the one you can see in the traditional hotel industry. The platform connects hosts directly with guests or travelers looking for affordable lodging.
Airbnb earns revenue by charging both parties a service fee. In most cases, hosts pay 3% for each booking, and travelers pay a fee from 0% to 20% depending on factors such as nights of stay, number of guests, and total cost of the reservation.
Key features that make Airbnb stand out:
It has a user-centered design and a simple-to-use platform. With 3-5 clicks, you can easily choose, reserve, and pay for the accommodation you like.

Clients have a wide range of choices. You have the possibility to choose the most suitable property for you and sort it by price, location, host rating, type of place, amenities, and many others. Also, you might find unique accommodation options like tiny houses, boats, treehouses, and historical homes.

It offers safety and trust. Airbnb managed to remove the fears and doubts of both customers and hosts. You can easily find host ratings and reviews for properties.

It has high-quality photos. While browsing the site, you will not notice blurry and unclear photos or properties that have no pictures at all.

The platform has a simple payment process. You can easily submit a secure payment and confirm the booking without many dialogues and messages with the host. There is also a cancellation period available.
The success story of Airbnb will make you want to pay more attention to how your customers feel in your online marketplace. Airbnb's focus on user experience has been key to its success. On the other hand, make sure to be innovative and give your customers a sense of confidence and safety.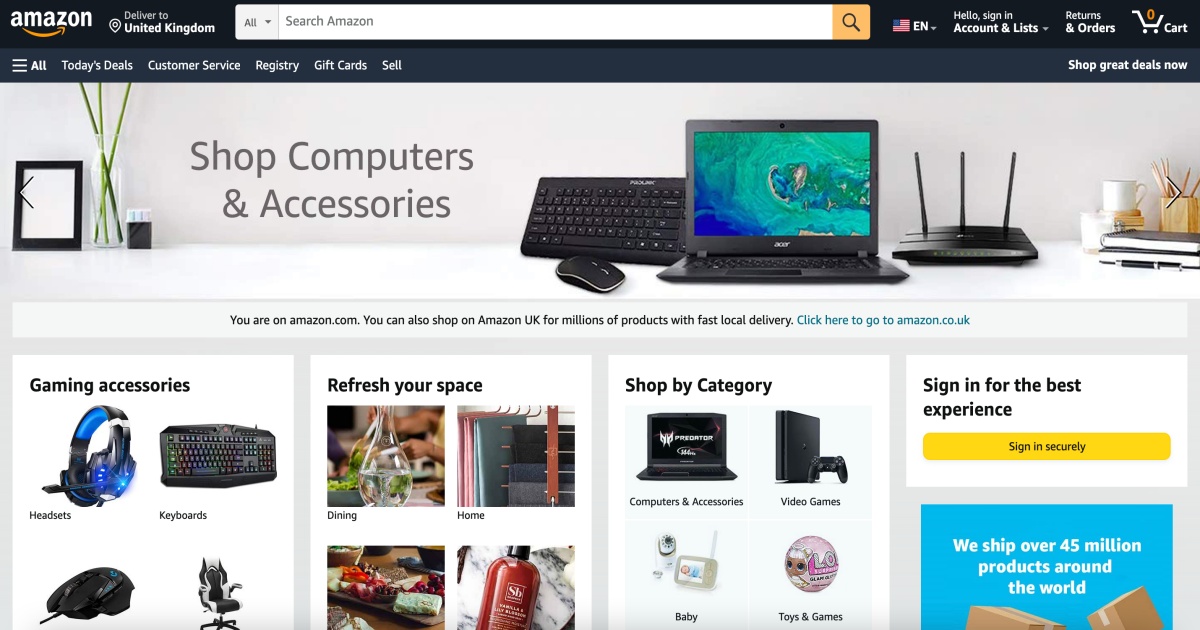 Image: Amazon
AMAZON
Amazon is one of the most popular marketplaces in the world. In 2022, Amazon's net sales revenue reached 514 billion US dollars. An incredible number, isn't it? What do you think makes this company so profitable?
Amazon started as a small bookstore online. At that time, very few people had access to the Internet. After many years, it is called "an everything store." On Amazon, you can find any kind of products, like groceries, baby products, electronics, jewelry, clothing, software, movies, music, and many others.
Amazon marketplace operates on both B2C and B2B business models. The main source of income comes from two directions: subscription fees and commission fees.
Key features that make Amazon successful are:
They applied a user-centered approach

Focus on good customer service

Variety of products

Personalized, simple, and fast shopping experience
You can take many useful tips and growth hacks for your business from Amazon's success story. The first key is to focus on customer satisfaction and experience. Then, if you want to have a successful marketplace you need to stay ahead of the competition and grow your client base by implementing innovations in your products and approaches.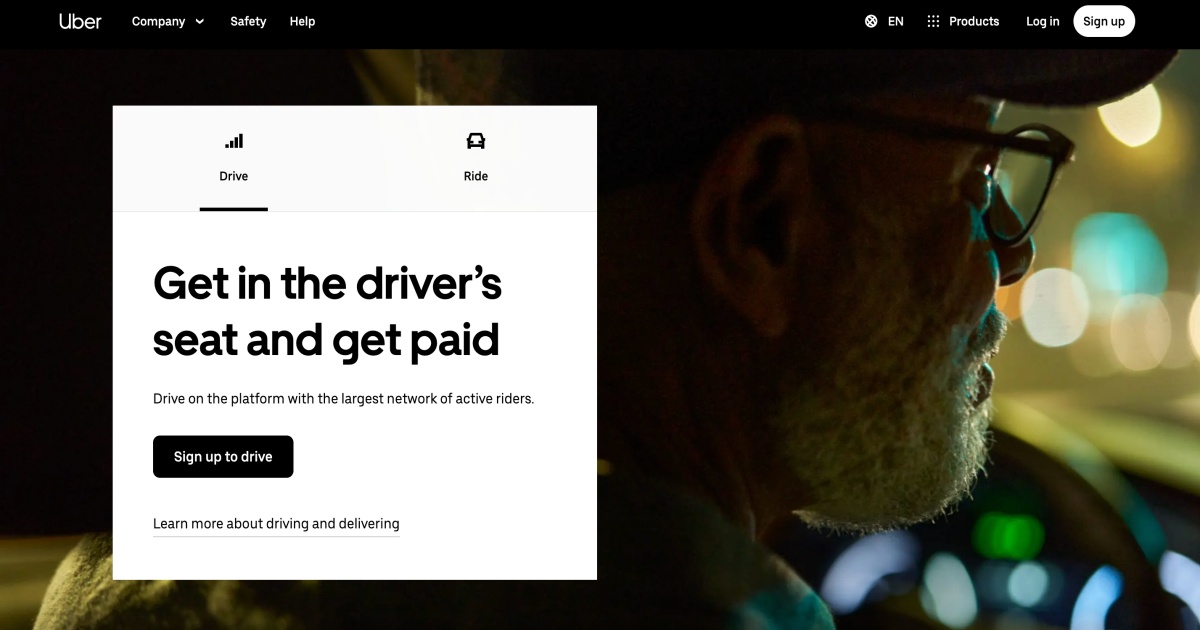 Image: Uber
UBER
Uber is a platform that has completely revolutionized business in the taxi field. It connects drivers (persons who want to get an additional income) and passengers (people that need to get to a destination fast and safely) through an online platform. In fact, Uber created a new business model that changed the way people think about transportation and made their lives easier.
Uber doesn't own its own cars and doesn't employ drivers. The platform earns money from commissions. The commission differs depending on location and class of service, usually, it's around 20-25%.
What makes Uber stand out?
Intuitive and customer-centered platform – it takes less effort to get a cab, you simply click a button, and your taxi arrives soon and gets you fast to your destination.

Fast method of payment – you can attach your card, and payments for rides are automatically processed.

Real-time location tracking (both driver and passenger) - the GPS feature allows you to automatically introduce your real-time location.

Ratings and reviews – each driver have reviews from real users, which increases the level of trust.
Overall, Uber's valuable lessons can be a great inspiration for your future marketplace. By simplifying users' lives and making the process of booking and paying for a ride easier, Uber created an innovation in the taxi industry. Doesn't this mean it's time to think that simple things can bring big results? Your online marketplace can become successful by focusing on customers' needs and implementing agility and adaptability into your approach.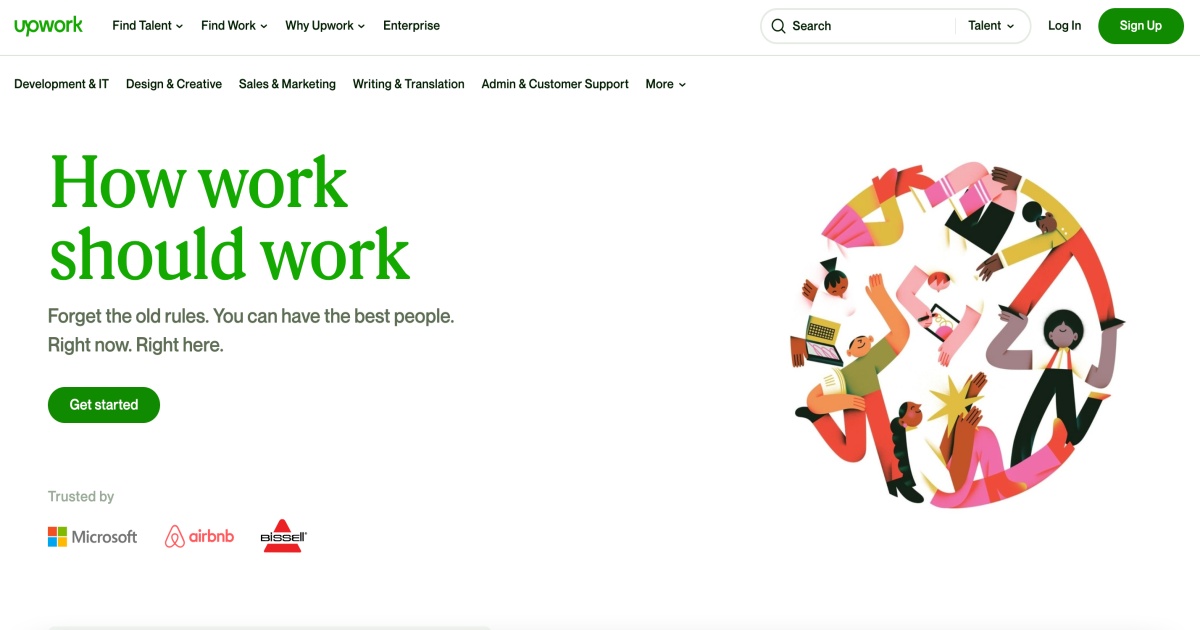 Image: Upwork
UPWORK
Upwork is a marketplace that connects businesses with talents. It helps people find work projects and get experience in different fields such as graphic design, copywriting, marketing, and others. On the other side, it helps businesses find talented people for their projects and tasks.
Upwork has a B2B business model. The platform earns money both from businesses and freelancers by charging a subscription fee.
In 2022, Upwork generated revenues of 618 million US dollars. The revenues come from charging fees for every successful transaction made on the platform. The percentage depends on the amount charged.
What makes Upwork stand out?
Strong network of freelancers and businesses

Modern and user-friendly platform with customized search and filters

Safety and trust in the payment process. Employers deposit money upfront, and freelancers are paid once the work is done
Looking at the success of Upwork's platform, we understand that creating this kind of marketplace also requires building a large and strong community. On the other hand, your brand's reputation plays an important role. If you can establish your brand with a solid reputation and provide trust and security in your marketplace's transactions and interactions, you will dominate the market.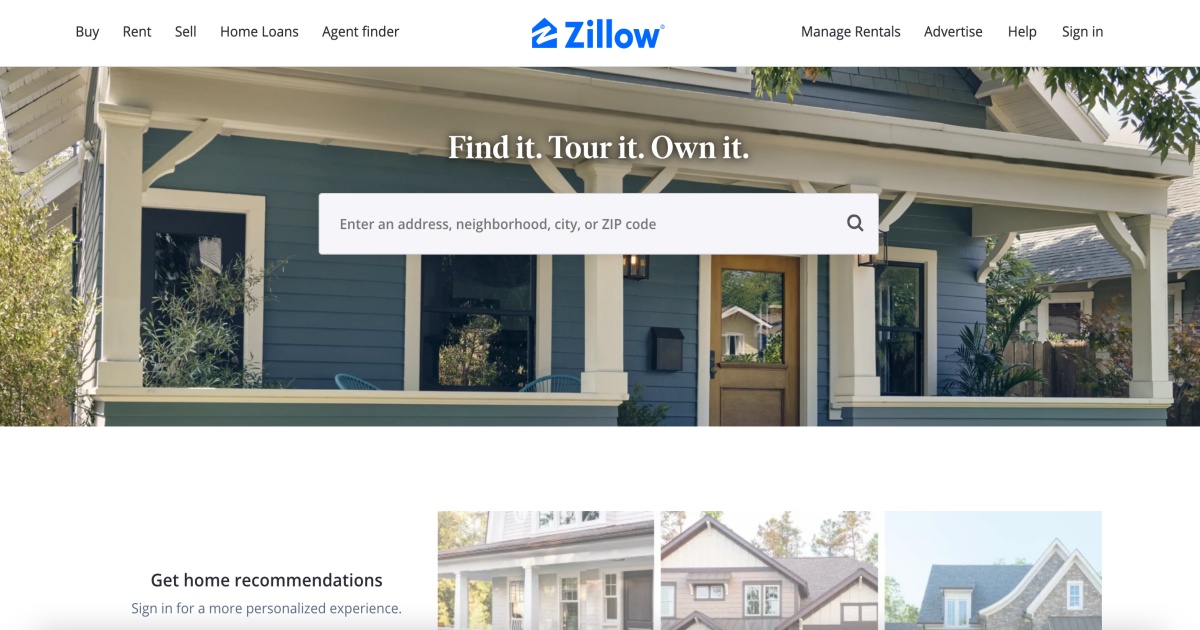 Image: Zillow
ZILLOW
Zillow is one of the most popular real estate websites in the US. The marketplace connects real estate agents and agencies with people who are looking to buy, sell, or rent a property. It was founded in 2006 by a former Microsoft employee, Rich Barton. The idea arises from the desire to transform the real estate market.
Zillow marketplace operates on P2P, B2C, and A2A business models. Zillow generates revenue from selling advertising on both its website and app, lead generation for real estate agencies and premium services available through its subscription service.
Key features that make Zillow a successful online marketplace:
There are a variety of properties listed for rent and for sale

Both the website and the app have a friendly and intuitive design

Customers have the possibility of searching properties by filters like price, type, number of beds, and location
Market innovation is a key to success. Zillow was able to innovate in the traditional real estate field, earning its success. Developing your online marketplace also means investing time and resources to understand your customers' and market's needs. Additionally, a useful tip is to diversify the revenue streams in your business, as demonstrated by Zillow's business model.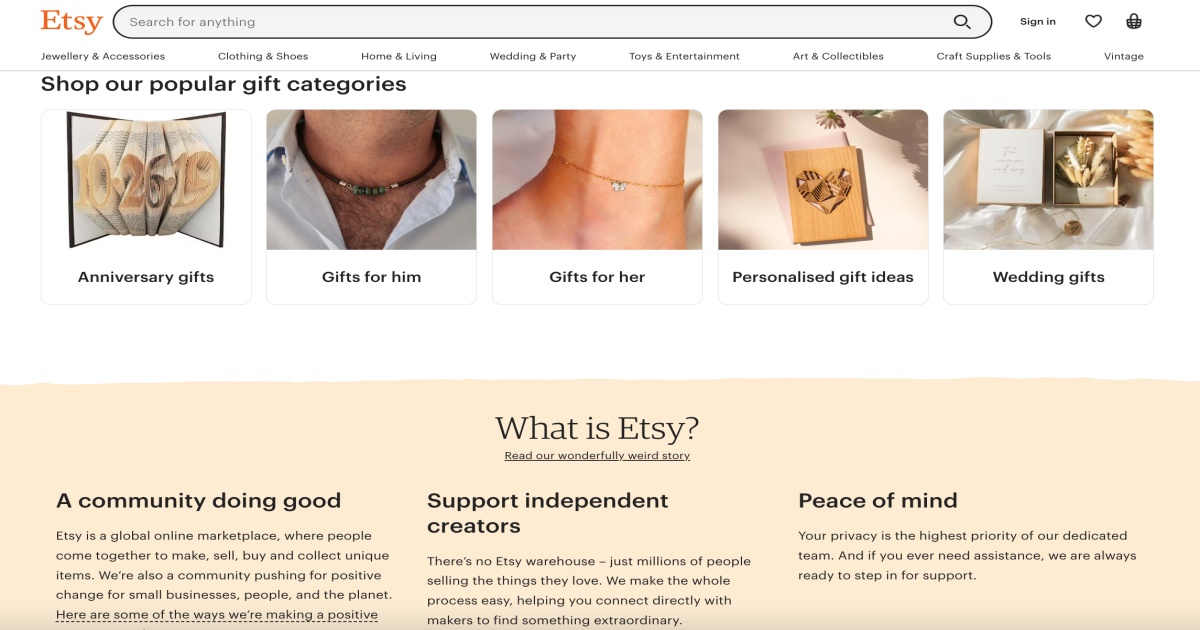 Image: Etsy
ETSY
Etsy is a unique marketplace where you can find exclusive vintage products and handmade goods. The Etsy mission is to connect buyers with sellers that design or create products, especially for them.
Etsy's story began as a small online community for artists and vintage fans. Today, it has extended to a big marketplace. It has a C2C business model. The monetization strategy applied is charging a fee from the seller when they list products and, as well, for every successful sale transaction.
Key features that make Etsy a unique platform:
This marketplace has a variety of personalized, unique, and hand-made products

Etsy provides a high-quality user experience

The platform provides analytics and tools for sellers
Etsy's success is based on community building. Also, Etsy is a great example of a niche market in this case, handmade and vintage.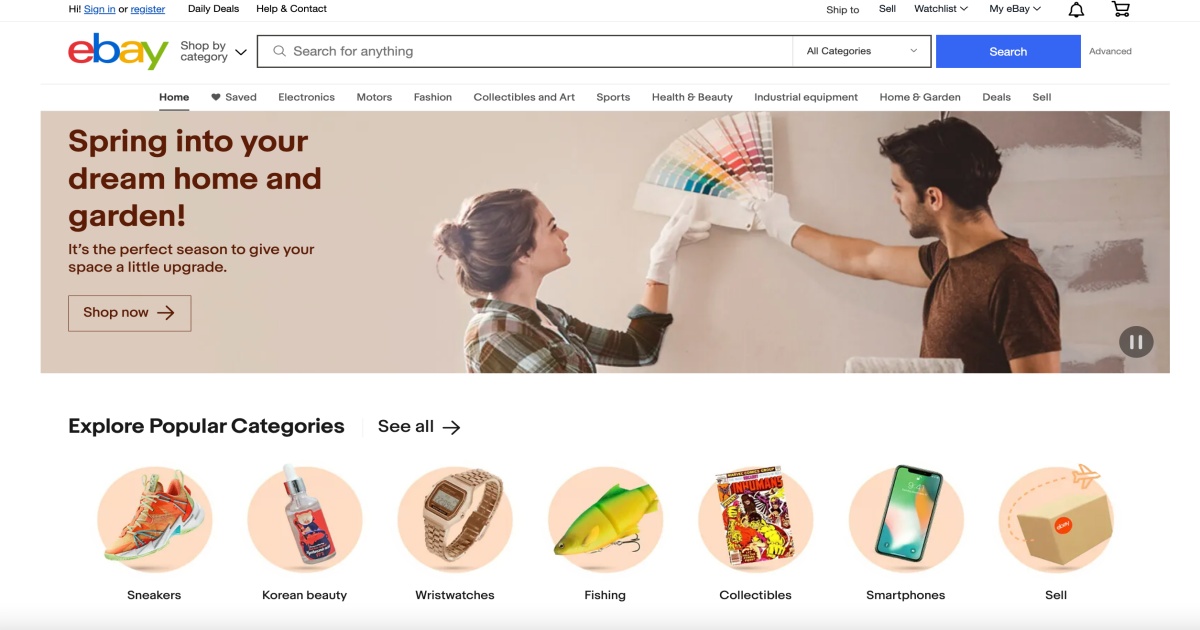 Image: Ebay
EBAY
Today, eBay is one of the most flourishing e-commerce platforms. It is used in more than 30 countries. The revenue of the company for 2022 is above 9 billion dollars (about $28 per person in the US). According to Britannica, key factors in eBay's growth were the promotion of safe and transparent trading.
The platform's main feature is the auction type of sale, in which users can bid on the price of a product. The option to buy products for a fixed price was introduced only after 2 years of the company's existence. eBay operates on C2C and B2C business models. The main revenue sources are selling, advertising, fees, commissions for transactions, and additional services.
Features that make eBay a popular marketplace among customers:
Users have the possibility to bid on a product's price

eBay applied effective marketing strategies not only in the US but also across its borders

The platform has a secure payment system and trusted sellers

It's easy to use, and the transactions happen fast
eBay's success story offers you useful insights if you are looking to develop your own online marketplace. Firstly, you should consider diversifying the products on your online marketplace to attract more clients. Secondly, it's essential to focus on a personalized and user-centered experience on your website or app. And thirdly, fast, and strong customer service will help you gain trust in your customers' eyes.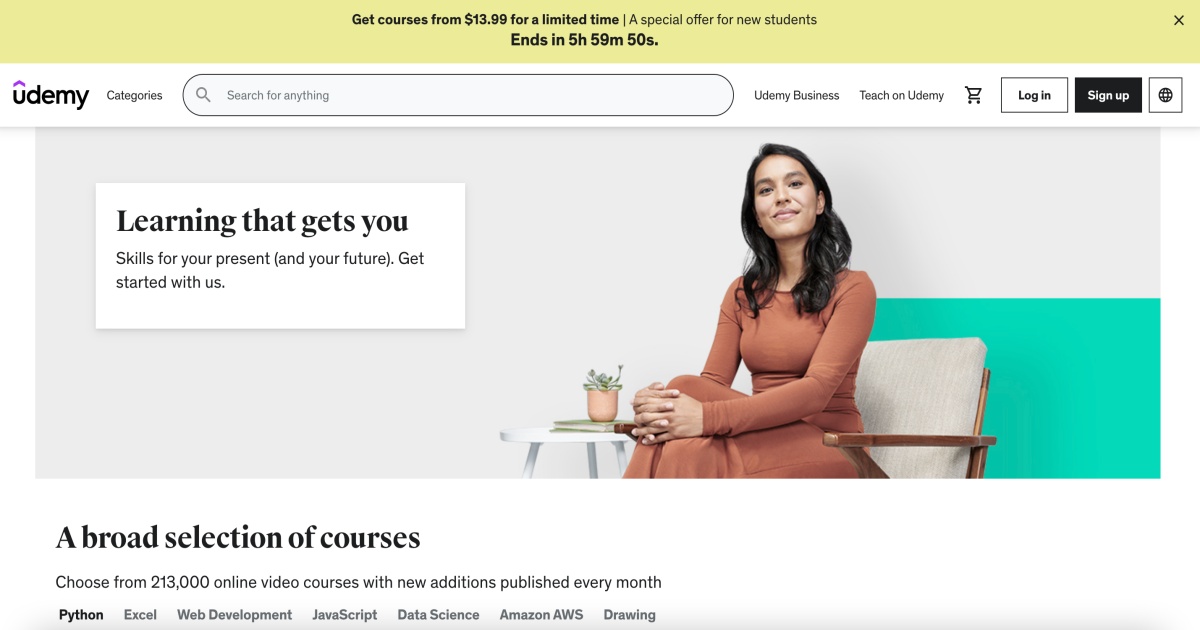 Image: Udemy
UDEMY
Udemy is a successful online marketplace where people learn and teach. It is known all over the world. The platform has over 200.000 courses and approximately 57 million students from all over the world (roughly twice the population of Texas). Udemy offers courses with different costs, lengths, and learning areas.
Revenue generated in 2022 was 165 million US dollars. Speaking of Udemy's business model, it is both B2C and B2B. The monetization strategy involves charging a fee to teachers for every course they post and fees for yearly subscriptions for businesses that allow their employees access to the platform.
Key features that make Udemy stand out are:
Structured and diverse courses at accessible prices

User-centered, intuitive design of courses, website and app

Besides the courses for individuals, Udemy also has plans for organizations
If you want to be successful in the online marketplace industry, which is changing quickly right now, you can learn a lot from Udemy's story. Focus on providing value for your clients. First, think: what are their needs, desires, and values? Then build a strong brand and gain your customers' trust. Build a community that shares the same values and aspirations.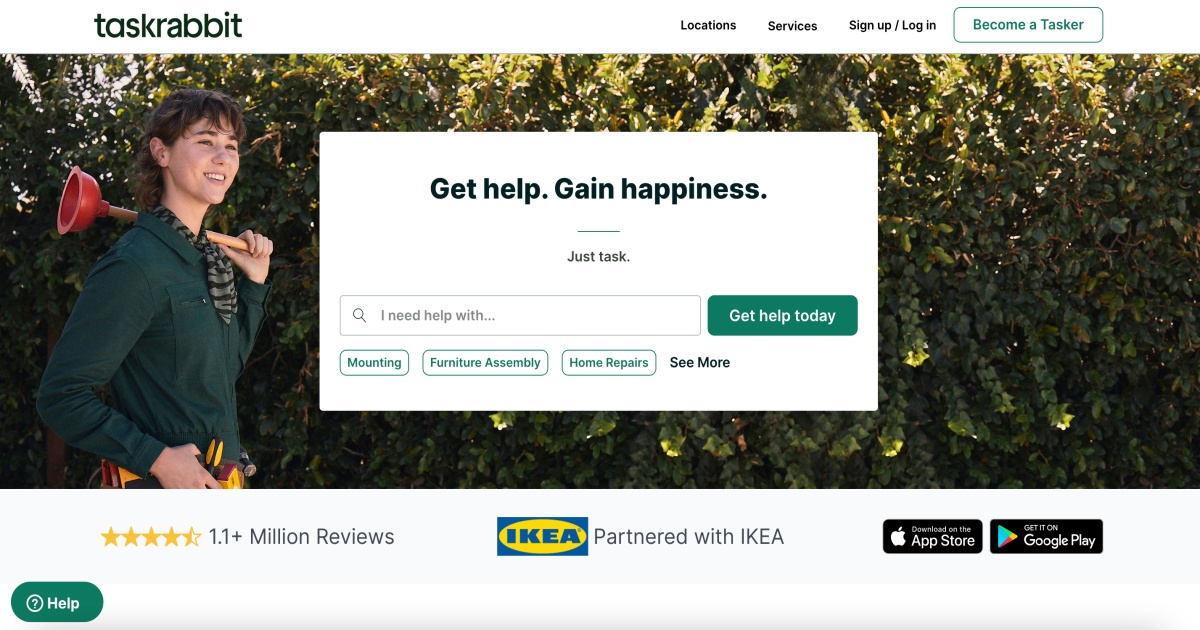 Image: Taskrabbit
TASKRABBIT
TaskRabbit was built on the idea of "neighbors helping neighbors" by Busque when she realized that she doesn't have time to buy dog food. Nowadays, TaskRabbit is a platform that connects busy people who need help with day-to-day tasks (such as cleaning, furniture assembly, mounting and installation, and others) with skilled taskers.
TaskRabbit has a P2P business model. The platform takes a fee of 15% for every task completed.
Key features that make TaskRabbit popular:
It makes people's lives easier. With a few clicks, you can find help for your everyday tasks such as cleaning, furniture assembly, and many others

The platform provides an opportunity to earn money for job seekers

Instant payment process - once the task is complete

Strong network of taskers and task posters
Looking at the success of the TaskRabbit marketplace, you can see that you must focus on finding solutions for your clients. You can track and analyze the unmet needs on the market and focus on solving them. Here you can find some hidden new growth opportunities for your company.
Oneest experience in Marketplace Development
Oneest has extensive experience in custom online marketplace development. Our dedicated development teams have helped customers build successful marketplaces in various areas including telesales/telemarketing (Hato.pro), HRTech (Staf.online), and sportstech (EasyScore). Our marketplace development team at Oneest is made up of experienced professionals who have a proven track record of delivering successful marketplace projects. Here are a few examples of our team's experience: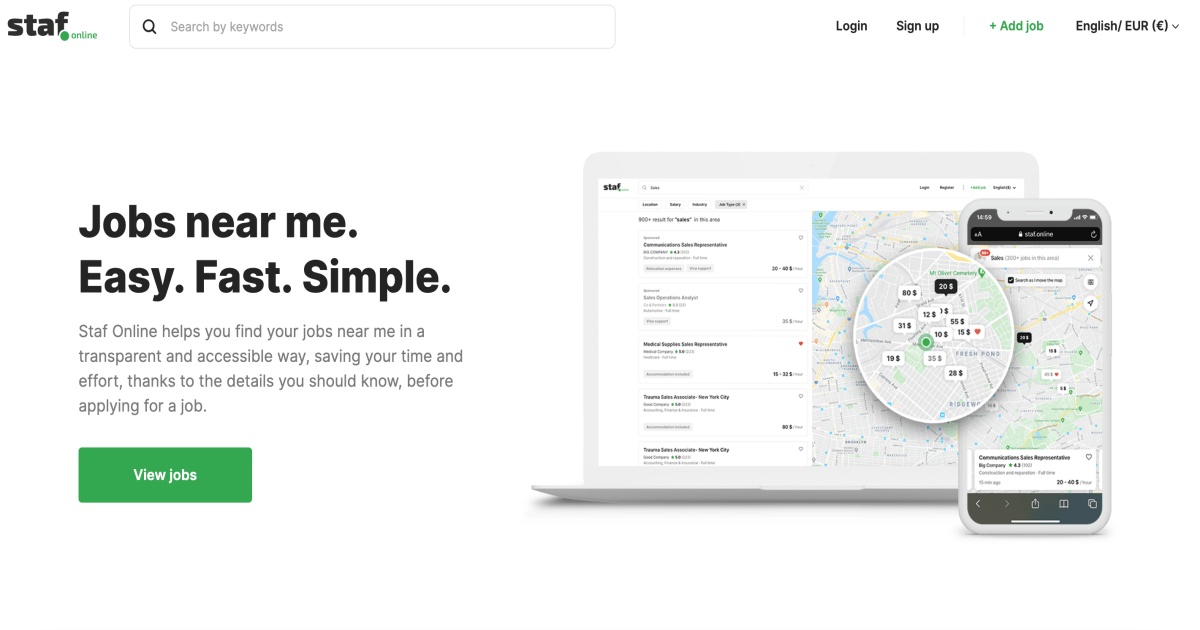 Image: Stafonline
STAF ONLINE
One of the online marketplace products we developed is Staf Online - an online platform that connects businesses or employers with job seekers based on location criteria. The core problem from which we started was the difficulty of finding an online platform with job offers that had complete and trusted information in terms of salary and job location.
At the same time, we had to do effective marketing research to find out what exactly the users' needs were. As a result, our team created a user-centered, intuitive, and simple-to-use platform that helps people find a job near their location.
By applying our best practices, we created:
A job board with many features, where job seekers can easily find a job that perfectly matches their needs

A platform where businesses can find talents saving time and money on the recruitment process and focusing on the right candidates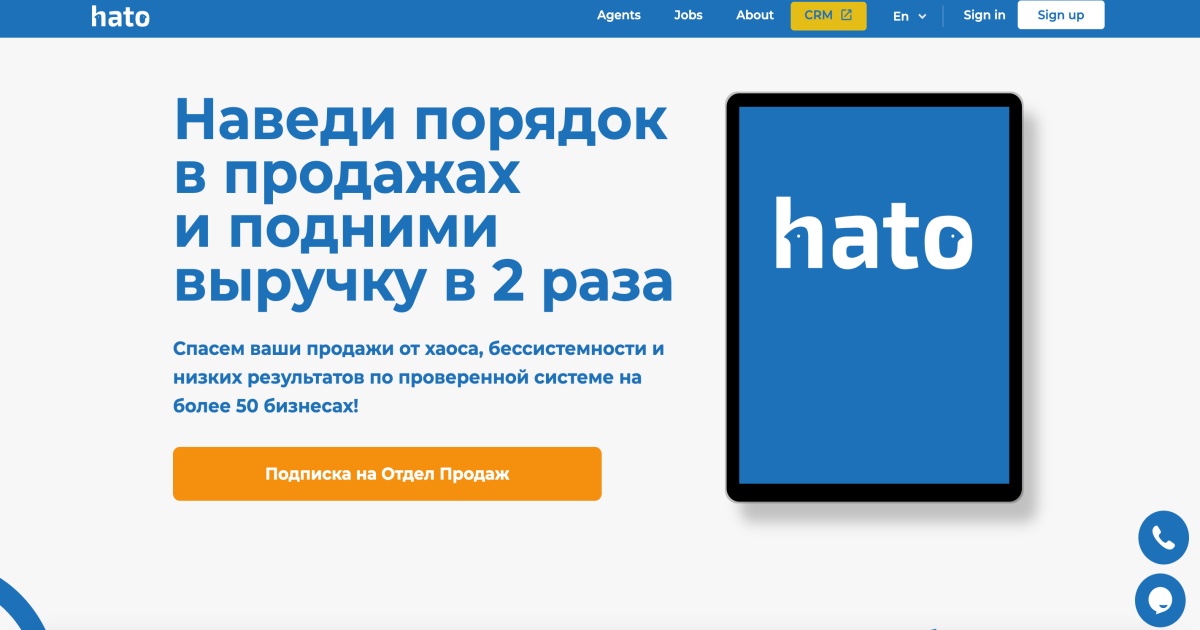 Image: Hato.pro
HATO.PRO
Another online marketplace we developed is Hato.pro.
Hato.pro arose as a solution to the problem of the high costs of creating and maintaining a call center for small businesses. We created a platform where businesses and agents from all over the world could meet and work together. The key priority was to develop a user-friendly, simple, and secure platform for our client.
As result, we created:
A CRM system with multiple functions like uploading and processing a big database, sales funnels, work statistics, and others

A multi-functional and secure platform for sales job seekers and small businesses looking to hire remote sales team members or even a whole department
The product contains a rich set of features and tools designed to make the process easier both for agents and businesses. More about this you can read on our website here.
SUMMARY
Want to build your next Amazon, Airbnb, or eBay? Whether you are looking to build your own marketplace or improve an existing one, our team at Oneest would be glad to help you. Online marketplaces can be a great opportunity for businesses to grow. You can use them to sell your products, explore new markets, extend your customer base, and boost your visibility.
This article looks at the success of some of the most well-known and profitable online markets around the world. Learn from the best, be inspired, and do even better. Surprisingly, all the successful companies mentioned above have focused on common things such as user experience; innovation; community building, and product diversification.
As a proverb says, "Quality is the best business plan". That is why it's essential for your business to partner with an experienced and professional online marketplace development company from Eastern Europe.
Our team of experts knows how to bring your ideas and plans to life. You can check here how we created an ecosystem of SaaS applications for remote freelance teams. Or, if you are curious to know more about our projects, discover some case studies here.
If you want to learn more about how user-centered design can help your online marketplace platform succeed, check out our latest article here.
Contact us today if you are looking for a qualified marketplace development company. We would love to learn more about your idea.