ChatGPT is a language model developed by Open AI the American artificial intelligence research company. The bot can automatically generate text and finish complex tasks. It analyzes a set of data and utilizes a special algorithm to function. The application is considered to be the most advanced chatbot so far.
It is easy to use, even for those who aren't that handy with technology. You need to make a demand, called a prompt, and then the AI will give you the answer or solve the given task. Chat GPT offers a wide range of opportunities, but there are also some downsides that come along with the new technology.
A brief overview of ChatGPT
The first version launched wasn't the final one, because OpenAI wanted to improve the AI and offer the best quality to all users. Until now three major versions of the GPT model have been released: GPT-1, GPT-2, and GPT-3. There is a free version and a paid version of the AI chatbot. The premium option involves a paid subscription. ChatGPT Plus charges 23,80 USD/month (taxes included).
If you encounter a lot of demands daily, you might consider the premium version because:
You have general access to ChatGPT, even during peak times. It's a very important advantage because the tool is used worldwide, and the waiting time can be a real burden.
Faster response times. In the business world, time is money, so the faster you can solve tasks efficiently, the better.
You have priority access to new features and improvements. In the future, OpenAI plans to add more features to the application. There are no further details about what they may include, but with the premium version, you can be the first to find out!
Why is ChatGPT worth considering for businesses?
ChatGPT revolutionized different industries with its capabilities. Nowadays, businesses can interact more efficiently with their customers and automate the internal processes of the enterprise. Such technology can be useful for businesses, no matter the size. From customer service to data analysis, ChatGPT can be our go-to option. Here are some advantages that you may observe even in the first days after the implementation:
Reaches a global audience. The chatbot is available in a wide range of languages - to be more exact, 90. So, it can be utilized worldwide. That makes it a perfect option for international businesses and those that want to expand.
Generates better customer experiences. ChatGPT has the capacity to offer natural, human-like answers in a short amount of time. This way, your customer can receive instant help for their concerns. So, with this tool, you can offer 24/7 support to everybody and improve the customer's experience. In the end, a satisfied client will return to your business, so we can say that it makes them more loyal.
Optimizes the processes. By automating repetitive tasks, such as answering frequently asked questions, the bot can contribute to the efficiency of the business. So, it can reduce the workload of customer service teams, allowing them to focus on more complex tasks. This way, you can increase the cost savings of your enterprise and offer a premium customer experience.
Provides scalability opportunities. With the help of ChatGPT, you can scale your business, especially on the client support side. The bot can maintain multiple conversations simultaneously and provide accurate answers. So, it can handle a large customer base without any problems.
Delivers personalized messages. The tool has the capacity to retain the context of the conversation. So, it can adapt its dialogue based on the customer's preferences and needs. Such ability contributes to the increase in customer satisfaction and has a positive effect on sales.
How can ChatGPT help businesses provide better customer support?
One of the most obvious use cases for ChatGPT is customer support. Depending on your activity, you should consider offering additional support to your clients. Dissatisfaction or questions can come up at any time, so you should be ready for anything.
Most people prefer to interact with a human, not a robot when they have a concern. For businesses, it can be, of course, complicated to keep up with the demands. That's why entrepreneurs might consider implementing ChatGPT. The AI offers human-like responses in a short amount of time. Also, not only does it allow you to offer permanent support, but it is a cost-effective solution you can use. Because the bot can take care of the questions and complaints of the customers, the customer service team has more time to deal with harder tasks.
Furthermore, if your employees can't keep up with the inquiries, you'll need to supplement the staff which means a new investment. On the other hand, for less money, you can integrate ChatGPT. The AI tool can be connected to an internal database. This way, it can give accurate and prompt answers to any question that may arise The process is very simple: the bot analyzes the database and, based on the analyzed information, comes up with a suitable response.
Another reason why it represents a perfect solution for customer service is the wide range of languages it can handle. So, if you own a global business, you can count on the OpenAI tool.
Some of the companies that have already opted for the integration of ChatGPT in customer support are Meta, Canva, and Shopify.
How can ChatGPT improve employee productivity and efficiency?
ChatGPT is a tool that can make a difference in the productivity and efficiency of your business. Especially when an enterprise is developing, you may notice the need for more employees. But what can you do if you don't have the necessary resources? Well, an AI can be the help that you're looking for in such a situation.
The bot is always there to help customers, which makes the customer service teams' jobs easier. This way, your employees can focus on more valuable tasks while the chatbot does its tasks. After all, why designate your employees to those tasks if you can reach them with the help of a tool? Also, this way, you can save time and resources so you can invest in other aspects.
Day-to-day research and general tasks can be assigned to AI and at the same time the more advanced and complex requirements could be met by employees. This way you are saving valuable time and resources because everyone is doing their job well in this process.
Professionals can use AI to do things like fix bugs in code, make a common component, make fake data, or write unit tests. Also, keep in mind that it can generate code in all programming languages. So, it can help developers no matter the technologies that they're working with.
Moreover, it can automate tasks that imply the analysis of a database. Meaning that if you need a spreadsheet, for example, that contains data from that one ChatGPT can finish the task. Also, you can automate the management of your social media with the OpenAI tool. So, business automation is now easier than ever.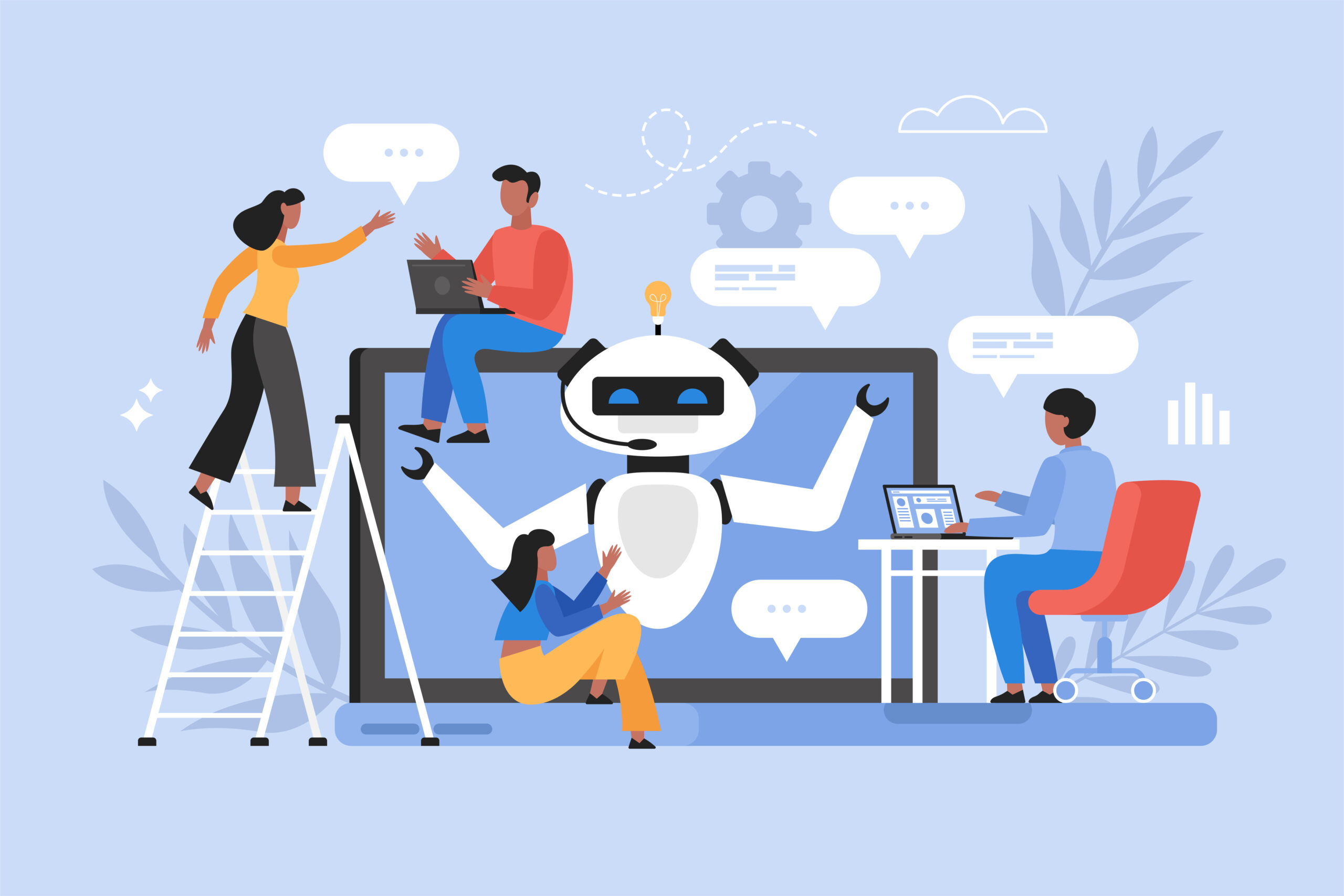 Image source: veritusgroup.com
How can ChatGPT help businesses create a personalized user experience for their customers?
When a customer visits your company's website, ChatGPT can greatly improve his user experience. As we mentioned, the AI tool can be connected to an internal database. This way, all the answers are personalized for each business separately.
Also, the memory of the ChatGPT represents one of the factors that differentiate s it from the rest of the chatbots. The AI can remember the context of the conversation and use the gathered knowledge throughout the interaction. It has unique conversational skills and can understand all customers' demands.
Furthermore, contrary to popular belief, it is uncommon for two people to receive the same response from the chatbot. For this, the phrasing of the question must be identical. So, as you may already think, there is a little chance that two different people will ask the same question in the same way. That means that the tool can give unique recommendations and solutions for problems.
How can ChatGPT help businesses improve their sales and marketing efforts?
Marketing a product or service can be a difficult task, especially when there is a staff deficit. If you're looking for a solution to your problems, ChatGPT can help you with various marketing activities. And, in the end, qualitative marketing will have a positive impact on your sales.
Here are some opportunities for use in sales and marketing for ChatGPT:
Helps with the process of creating content. AI represents a good source of inspiration for marketing content. However, although it may seem like a good idea, you can't leave this task entirely in the "hands" of a bot. To create engaging content, you must add a human touch to the writing. Of course, the chatbot can generate text that is comparable to that of a human, but it lacks creativity, empathy, and flexibility. So, you'll still need a marketing specialist for the creation of blog content, social media texts, or video scripts.
It can help you predict user behavior. The tool itself can't identify the needs of your customer. However, it is a strong ally in the process. The chatbot can maintain a conversation that you can visualize and from which you can extract insights. Based on what you've learned, you can improve your business actions in the future. Also, this kind of information can help the marketing specialist create a marketing strategy. It is unlikely for the chatbot to do such a thing because of its inability to understand the customer.
Search engine optimization. The optimization of your website helps you obtain better organic web traffic. This is important because it means attracting potential users with a low investment. So, this tool helps you increase your online visibility and keep it that way. Here are some SEO aspects that ChatGPT can help you with keywords, meta descriptions, and link building. After data analysis, the chatbot can come up with a list of relevant keywords for your content.
How can ChatGPT ensure data security and protect customer privacy?
In the future, ChatGPT is expected to become a cybersecurity tool, but now that's not the case. The chatbot is capable of natural language processing, so it can monitor chat conversations. This way, the job is easier for the employees who had such responsibility.
While in the future it may develop into a powerful security tool, the chatbot is exposed to several threads. It's an open-source tool, so everybody can access its code and apply some modifications. So, it can represent an attraction for hackers and malicious factors. Here are some risks that you must pay attention to:
Data handling. OpenAI retains user interactions with the model for a limited period but does not use the data sent via the chat interface to improve its models. This is important, especially if you're a company that works with the personal data of your clients. Any kind of inconvenience caused by data stealing can harm your business's reputation and impact your sales.
Encryption and access controls. OpenAI employs industry-standard security protocols and encryption to protect data transmission and storage. Access to customer data is restricted to authorized personnel only. This way, malicious content is avoided at any cost. It is your duty to make sure that you protect your customers and minimize the chances of a cyberattack as much as possible. Therefore, you have to choose an appropriate tool.
Compliance with regulations. OpenAI strives to comply with applicable data protection and privacy regulations, such as the General Data Protection Regulation (GDPR), to safeguard customer data. Like the other two threats, malware is malicious software that can steal confidential data or carry out other related activities. It's always better to prevent such incidents, so don't forget to assure the needed security.
When problems like these come up, you should always work with a skilled IT team. They can help you strengthen your security and make sure that there are no risks for the users of your website. Otherwise, as I already mentioned, the success of your business after such an incident is hard to achieve. Oneest can be the help you are looking for. Don't hesitate to ask for our help with business security.
What makes ChatGPT different from other chatbots?
After reading so much about the AI tool, you've probably already noticed the main differences from a regular chatbot. But, for those that are still questioning the capacities of the chatbot, here are some differences that make it a powerful tool:
Conversational skills. ChatGPT can understand and reply to whatever question you may have in any of the 90 languages it's available in. But, there is a condition to any of the demands: clarity. For the chatbot to give an accurate response, the inquiry must be as clear as possible.
Memory. The main reason why this AI tool is so like a human is the memory. ChatGPT can remember the context of the conversation and use that information throughout the entire interaction.
It minimizes harmful outputs. When it comes to the demand for harmful information, ChatGPT is well-trained to not give answers. In conclusion, the tool is capable of identifying such requests. Even though it is still a bot in development, it is less likely to give out dangerous information than other bots.
Conclusion
ChatGPT represents your reliable help when you're looking to improve your business. It can be used in a wide range of activities, such as customer service, management, or personalization of the customer experience. Also, no matter the use case, it brings your business some important advantages:
Global reach
Better customer experience
Efficiency
Scalability
Personalization
No matter the dimensions of your enterprise, ChatGPT can revolutionize your activity and place you at the top of your field. Of course, if you're interested in implementing such a tool, there are some steps you need to follow:
Identify your goals. It's important to know what your business goals are and how you want to use the tool.
Choose the platform. ChatGPT can be used on many different systems, such as Dialogflow, Microsoft Bot Framework, and Amazon Lex. You can choose the best tool for your needs based on your goals.
Train the tool. The chatbot can be linked to private databases so that it can give people useful information. Also, it can give them answers that are specific to it.
Integrate it with your systems. The efficiency and productivity of your team can only increase if you integrate the tool correctly. You need to connect ChatGPT to the customer service or sales system so that the processes can be automated.
Keep an eye on the performance. Don't assume that the chatbot does everything correctly only because it's a well-developed technology. The tool may need some adjustments, so it provides the best experience for customers. With ChatGPT, you can make your services better and get your users engaged.
The customer experience is very important because it determines whether the client wants to return to your website. Explore our website to discover our unique approach to assessing specific business needs. We believe in tailored solutions and development plans that align perfectly with your goals. See how we analyze, understand, and propose the best strategies to address your unique challenges.
For alternative information, dive deeper into the world of digital transformation and gain valuable insights, strategies, and success stories by exploring our comprehensive blog.