Do you find yourself spending a significant amount of time on repetitive tasks that involve completing the same processes over and over again? We come across numerous daily tasks and responsibilities in our lives. Are you interested in discovering innovative tools that can help you approach repetitive tasks more efficiently?
The use of automation tools has become a significant factor in boosting productivity. Productivity includes more than simply applying more effort or spending extended periods of time working. Instead, it is about working more efficiently and maximizing your productivity with the time and energy you have. Do you ever experience the sensation of having a multitude of tasks to complete but a limited amount of time to accomplish them?
Fortunately, there is a wide range of tools available to help you stay focused on your tasks and maintain a high level of productivity. By integrating these tools into your daily routine, you will tap into your full productivity potential and reap the benefits in all aspects of your life or business.
We have carefully chosen the best automation tools to boost your productivity in various fields.
Email Management Tools
Email automation is a way to create emails that reach the right audience with the appropriate message at the right moment without doing repetitive work every day. Email automation is a powerful tool for streamlining marketing efforts and delivering personalized content to your audience. By setting up specific triggers, such as user sign-ups, abandoned carts, or birthdays, you can send relevant emails automatically to your customers.
We've chosen two different applications for email automation that you can utilize:
Mailchimp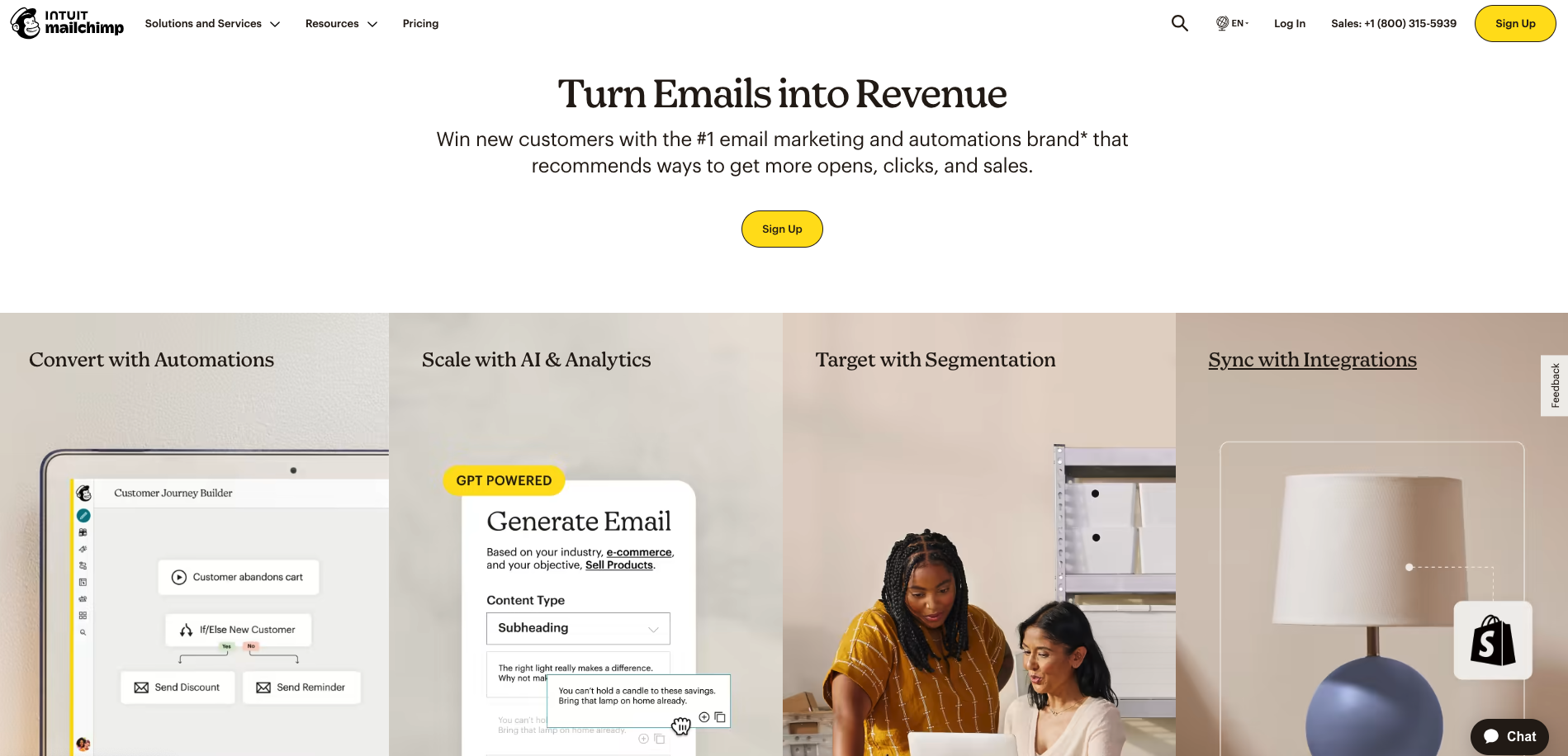 Mailchimp can help you take your email marketing to the next level by helping you send and create engaging marketing emails. From drag-and-drop editors to powerful automation and developer APIs, Mailchimp is built to help you eliminate repetitive tasks and make email creation an easy and engaging process.
Key features:
1. Triggers set up: This allows you to set specific triggers that will initiate sending automated emails to clients or subscribers. For instance, when it's a customer's birthday, an automatic email can be sent offering a discount on the purchase of a product.
2. Audience segmentation: You can import your subscriber list to Mailchimp and segment your audience based on specific criteria.
3. Designing emails using templates: Mailchimp offers a drag-and-drop editor, making it easy to create visually appealing and responsive emails without any coding knowledge.
4. Creating your automated email workflows: In Mailchimp, you can create automated email workflows using their intuitive visual builder.
Costs:
Mailchimp has one free plan and three payment plans with different features. The price is starting at $0 to $350 for a year.
Hiver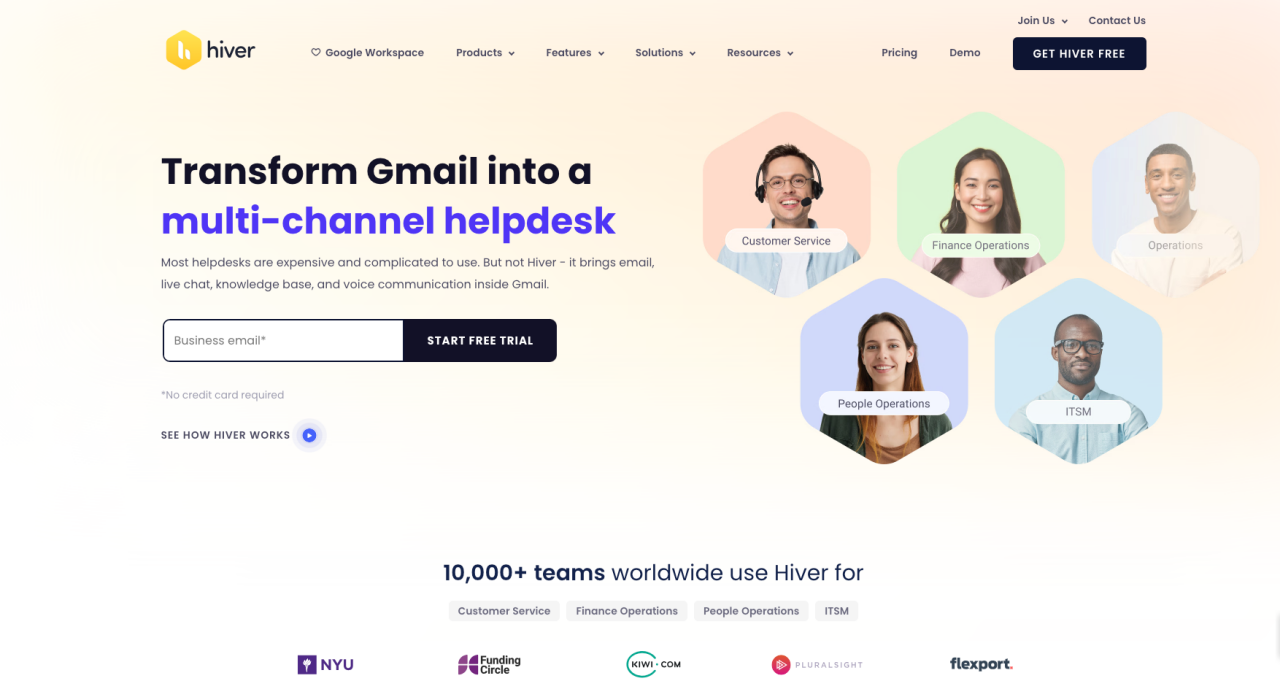 Hiver is a popular email automation tool that integrates with Gmail. It offers a comprehensive suite of features designed to enhance team collaboration, streamline email workflows, and improve overall productivity. By leveraging these features, teams can effectively manage and collaborate on emails, communicate more efficiently, and provide qualitative and fast customer service.
Key features:
1. Automated and conditional assignments: These ensure fast and efficient email responses and clearly specify conditions based on which emails are assigned to a specific department or person. For instance, an email containing `Receipt` or `Payment` in the subject line will automatically be assigned to the finance department.
2. Shared templates: Hiver allows your team to create and share email templates, ensuring consistency and saving time when responding to common queries or sending standard emails.
3. Smart follow-up on emails: Assign incoming emails to specific team members based on the email's arrival time. Depending on whether the email is received in the morning or in the evening, it is delegated to a person from the respective shift.
4. Email Analytics and Reports: Hiver provides insights and analytics on email performance, allowing you to track metrics such as response time, email volumes, and customer satisfaction. These analytics can help you measure productivity, identify bottlenecks, and improve overall email management.
Costs:
Hiver has a 7-day free trial and three payment plans:
Lite for $15 monthly
Pro for $39 monthly
Elite for $59 monthly
Using an email automation tool can help you save time and increase productivity. Consider trying out one of these tools to see which works best for your needs.
Project Management Tools
Managing projects is a complex and time-consuming activity. Effective project management ensures that projects are delivered on time, within budget, and meet the desired quality standards.
There is a key to streamlining your workflow and saving time: project management automation tools. Here are two of the top project management automation tools to consider:
Trello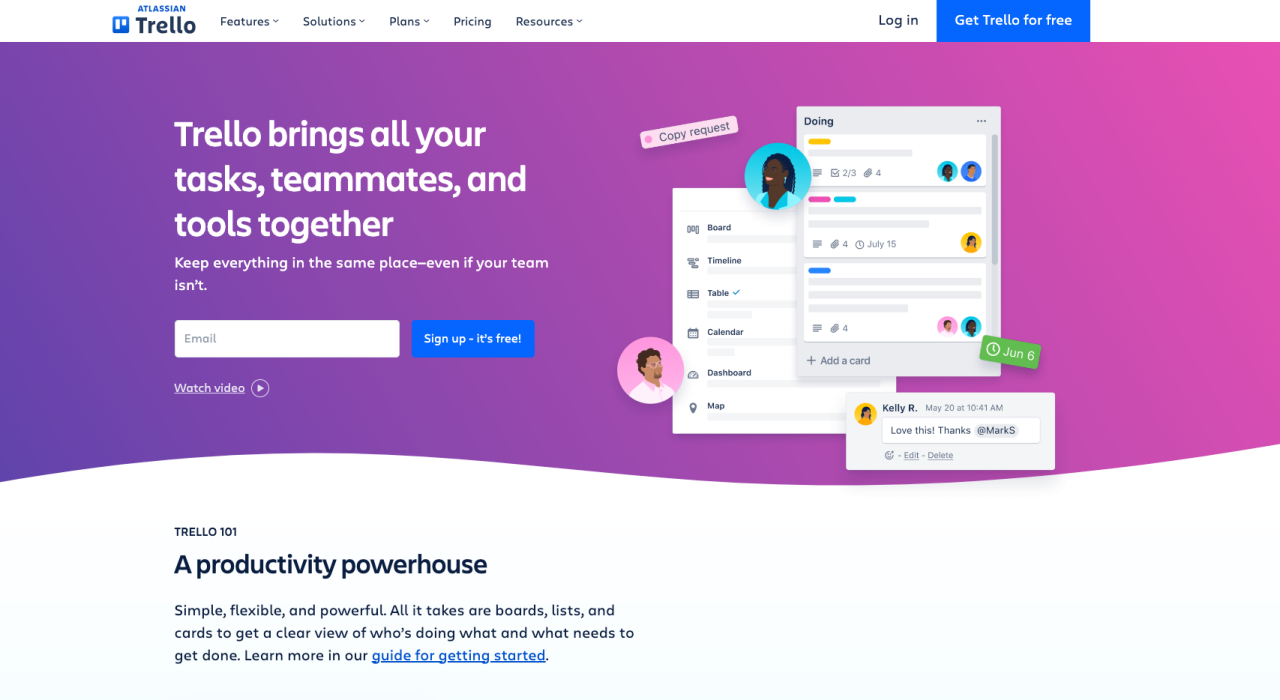 Trello is a popular project and task management tool. It provides a visual overview of tasks, allows for assigning responsibilities, setting deadlines, and monitoring progress. Teams can collaborate in real time, ensuring everyone is on the same page.
One of Trello's strengths is its flexibility, as it can be adapted to fit different use cases. It can be used for personal task management, team collaboration, project management, agile development, content planning, and more.
Features:
1. Boards, lists, and cards for project management: Trello uses a card-based system organized within boards. Boards represent projects or categories; lists represent stages or workflow phases; and cards represent tasks or specific items. You can easily create, move, and rearrange cards to reflect the progress of your projects.
2. User-friendly interface: Trello's user-friendly and intuitive interface allows users to drag and drop cards across lists and boards, making it easy to update the status of tasks and collaborate seamlessly with team members.
3. Labels and categories: Trello provides customizable labels and categories that help you categorize and prioritize tasks. Labels can be color-coded and used to indicate task types, priorities, or any other relevant criteria, making it easier to filter and search for specific cards.
4. Integrations: It allows organizations to connect their teams' applications to the Trello workflow. Some of the popular ones include Slack, Google Drive, GitHub, Salesforce, and Telegram.
5. Activity log and notifications: You receive notifications and updates when changes are made to boards, lists, or cards. This feature helps team members stay informed about project updates and collaborate in real time. The activity log provides a history of all changes and actions taken within the boards, ensuring transparency and accountability.
Costs
Trello has one free option for individuals or teams looking to organize any projects and three payment plans:
Standard for $5 per month
Premium for $10 per month
Enterprise: It depends on the number of users; the more users, the lower the price. It starts at $15 per 50 users per month.
Asana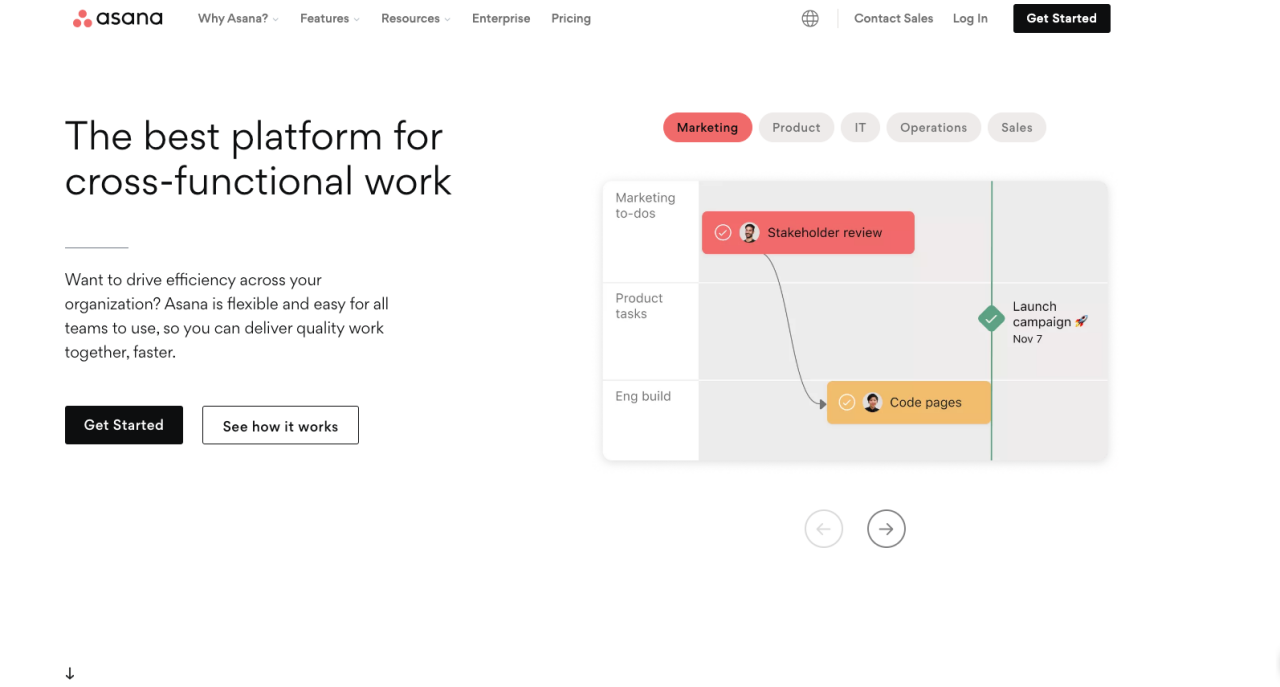 Asana is a web-based project management and collaboration tool that helps individuals and teams organize, track, and manage their work. It provides a platform for managing complex work easily. You can create tasks, assign responsibilities, set due dates, and track progress toward project goals.
Features
1. It ensures collaboration and communication: Users can leave comments, tag team members, and have conversations within tasks, providing a centralized space for discussions and updates. With features like mentions and notifications, team members can stay informed and engaged in project-related conversations.
2. Workflow builder: It helps you reduce manual work by creating rules that trigger automatic actions like assigning tasks to people, updating the status of the task or project, and more. It also has a calendar view that allows you to see your upcoming tasks and their deadlines.
3. Managing team workload: You can see a full picture of your team's workload in real-time. You get a complete picture of everyone's capacity and can easily drill into tasks for additional detail. It is easy to make sure team members aren't overwhelmed or underworked and projects are properly staffed in real-time, all in one place.
4. Integrations: Asana integrates 200+ tools into a single platform to coordinate high-impact work in real-time. Integration with apps like Zapier, Slack, or Google Drive can further streamline your workflow by automating data transfer and facilitating seamless communication between teams.
Costs
Asana has a free basic plan for individuals or teams that have just started with project management and two payment plans. A premium plan for $10,99 per month and a business plan for $24,99 per month.
Social Media Management Tools
Having a strong online presence is essential for both businesses and individuals in today's digital age. However, managing many social media accounts can be a time-consuming activity.
Automation of social media management allows you to focus on strategic aspects of your social media strategy while reducing manual tasks, ultimately saving time and resources.
We've selected for you the two best automation tools for managing social media accounts efficiently:
IFTTT (If this, then that)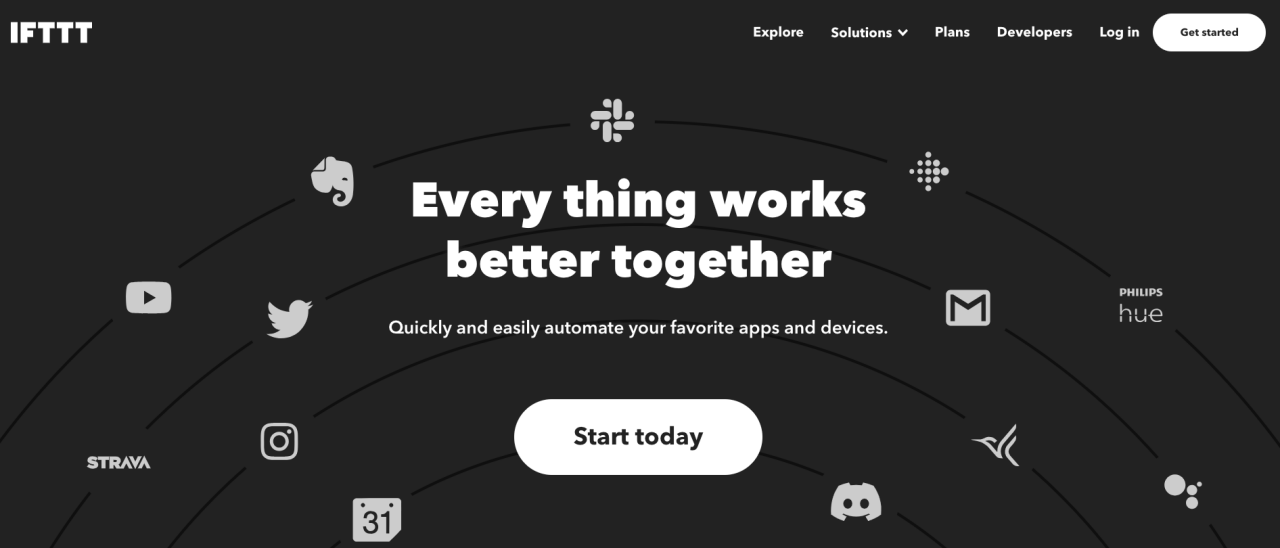 IFTTT allows you to create automated workflows that connect your social media accounts to other apps. For instance, you can create a workflow that automatically shares your new blog posts to your Instagram or Facebook business account.
The basic concept of IFTTT is built around conditional statements, where an action is performed automatically when a specific condition is met. These statements are known as "applets" in IFTTT. Each applet consists of two components: a trigger and an action.
For example, you could create an applet that says, "If I post a photo on my Instagram (the trigger), then save that photo to my Dropbox account (the action)". In this case, when you upload a photo to Instagram, IFTTT detects the trigger event and automatically performs the specified action of saving the photo to your Dropbox.
Features:
1. Cross-posting and social media management: IFTTT can automate the process of sharing your content across multiple platforms. For instance, you can create applets that automatically share your new blog posts on social media platforms like Twitter, Facebook, or LinkedIn. This helps you reach a wider audience and saves time by eliminating the need to manually post on each platform.
2. Social media monitoring: You can monitor your social media platforms for specific keywords, hashtags, or mentions. You can create applets that send you notifications or emails when certain keywords are mentioned on platforms like Facebook or Instagram. This allows you to stay updated on relevant conversations, engage with your audience, and respond promptly.
3. Social media Analytics: It becomes easier for you to gather social media analytics data for analysis and reporting. You can automatically save data from platforms like Twitter, Facebook, or Instagram to a spreadsheet or database. This enables you to track key metrics, analyze trends, and make data-driven decisions to improve your social media strategy.
Costs
IFTTT offers a free plan with limited features. Also, there are two payment plans: Pro for $2.5 per month and Pro+ for $5 per month.
Hootsuite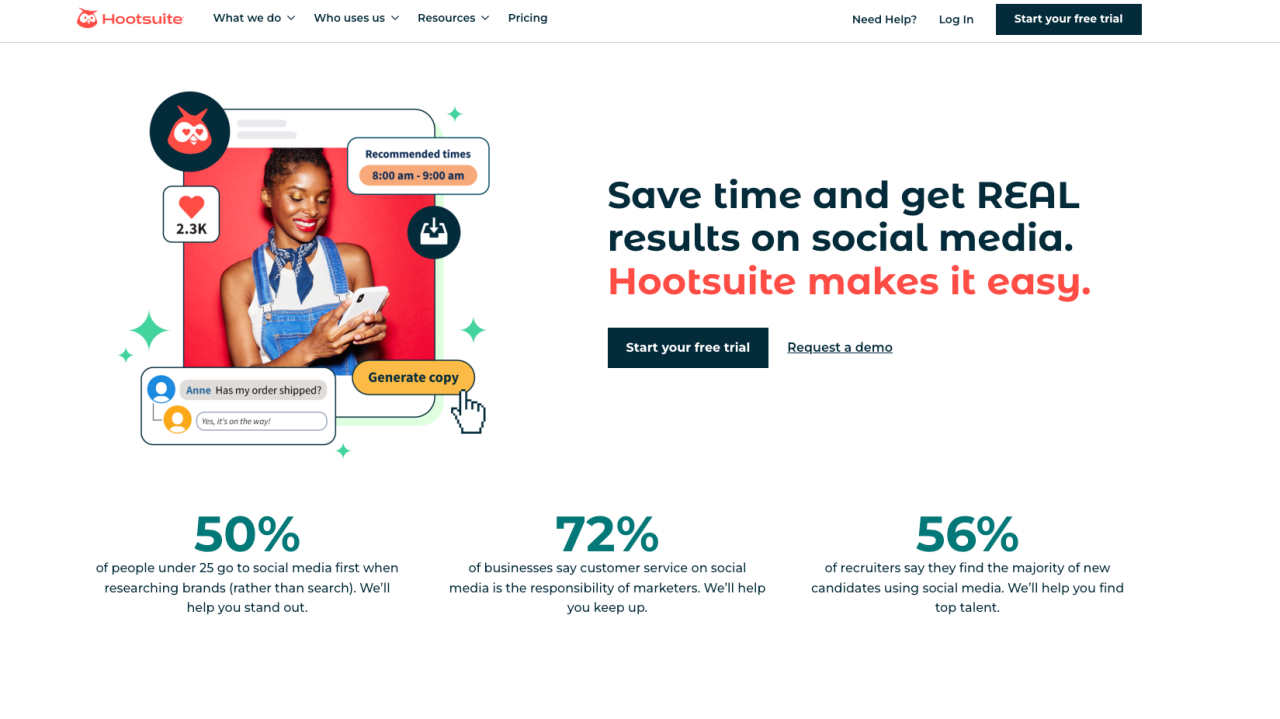 Hootsuite is an all-in-one social media automation tool. Hootsuite is designed to help you effectively manage all your social media accounts in one place. It provides a centralized dashboard where you can schedule and publish posts, monitor social media activity, engage with your audience, and analyze the performance of your social media campaigns.
Features:
1. Publishing and scheduling posts: From a single dashboard, you can easily create, schedule, and publish content for all your social media channels. You can cut hours off your workweek by using a social media scheduler that lets you plan hundreds of posts ahead of time. This can help you boost engagement by scheduling content to go live at a planned time based on your audience's activity.
2. Social media advertising: Hootsuite allows you to manage all your paid content on Instagram, Facebook, LinkedIn, and others in one place. Also, you can integrate your marketing tools, such as Mailchimp, Salesforce, and HubSpot, without manually exporting or importing lists. Moreover, using the Hootsuite dashboard, you can simplify your workflow by creating and launching social media ads on Facebook, Instagram, and LinkedIn.
3. Social media analytics software: You can track all social media metrics in one place. You will see what's working and what's not, according to smart data and reports. Identify top-performing posts in seconds and adjust your strategy as needed. All your data reports (Instagram, TikTok, LinkedIn, Facebook, Twitter, and others) will be stored in one place. These insights enable you to evaluate your social media strategy and make data-driven decisions to optimize your campaigns.
Costs
Hootsuite offers four subscription plans:
Professional: $99 per month
Team: $249 per month
Business: $739 per month
Enterprise custom: personalized price.
Document Management Tools
Do you want to save time and boost your productivity? You can automate various tasks associated with document creation, storage, collaboration, and security using document management tools. This not only saves time and effort but also enhances efficiency, accuracy, and overall productivity in your work processes.
Box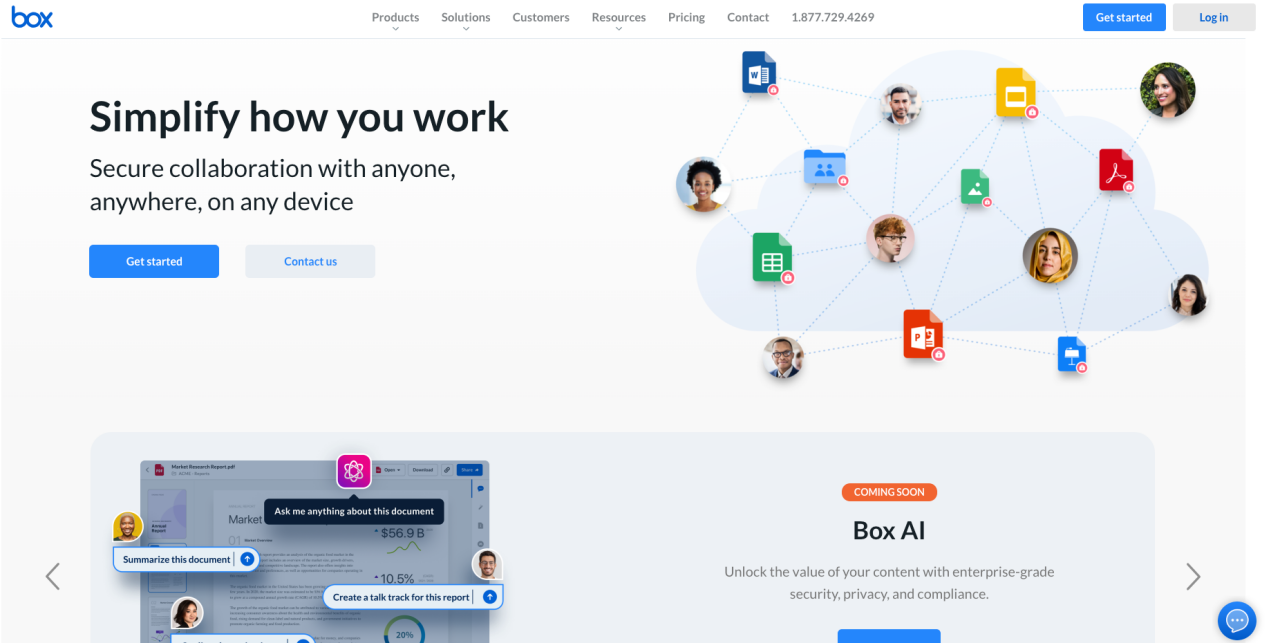 Box is one of the largest and most popular document management tools. It provides a platform that allows individuals and businesses to store, manage, and collaborate on digital content, such as documents, files, and folders.
Features
1. File collaboration and sharing: With Box, you can upload files to the cloud, organize them into folders, and securely share them with others. It offers features like file versioning, access controls, and user permissions to ensure data security and collaboration. Box also allows your team to collaborate in real time, where multiple users can simultaneously work on the same document, comment on files, and track changes.
2. Security and compliance: Data security is the number one priority for every business. Box prioritizes the security and protection of user data. It offers enterprise-grade security measures, including data encryption, access controls, and user permissions.
3. Workflow automation: You can create custom workflows and automate repetitive tasks using Box Relay. Workflow automation can be particularly useful for tasks like content review and approval, document routing, and contract management.
Box provides APIs that allow developers to automate various tasks related to file management, collaboration, and workflow processes. With Box APIs, you can create custom integrations, automate file uploads and downloads, manage permissions, and perform other file-related actions programmatically.
Costs
Box offers four payment plans for businesses:
Business: $15 per month paid annually
Business Plus: $25 per month paid annually
Enterprise: $35 per month paid annually
Enterprise Plus: customized price.
Dropbox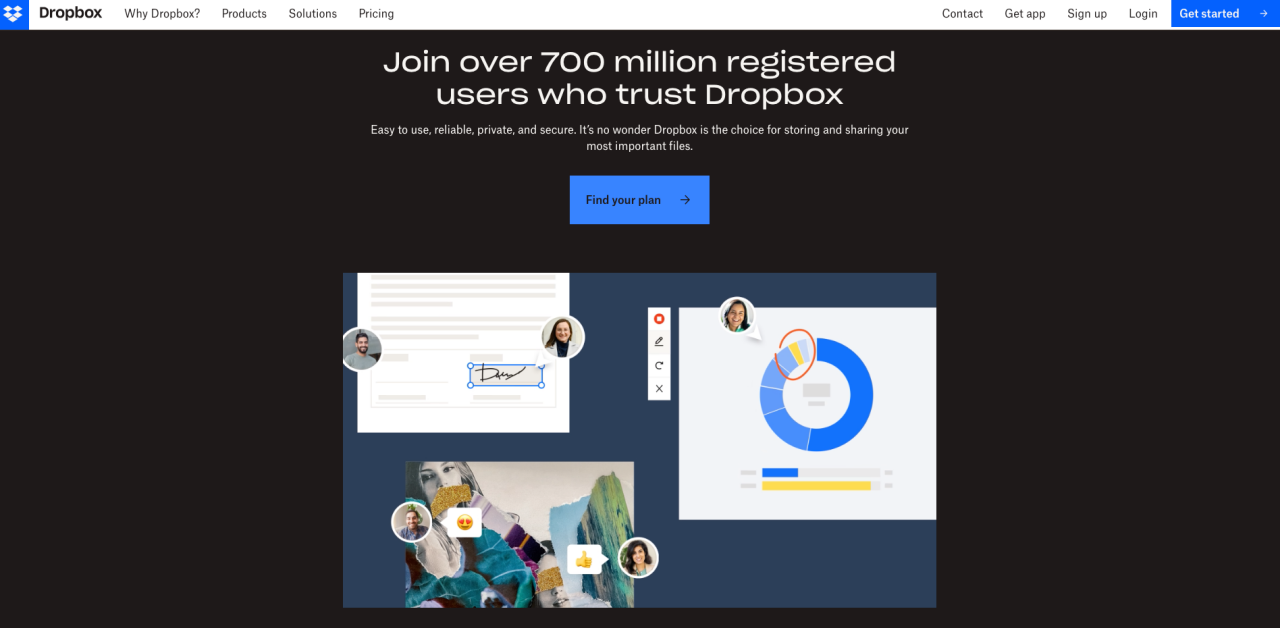 Dropbox is a cloud storage and file synchronization service that allows you to store, access, and share your files and folders across multiple devices and platforms. These files can be documents, photos, videos, or any other type of digital content. Once uploaded, the files are synchronized across all devices associated with your Dropbox account.
Features
1. Storage and organization: Using Dropbox cloud storage, you can safely save every type of file, from photos to PowerPoint presentations.
2. Access from multiple devices: You don't need to be around the office computer to access a document. Whether you're at work or on the road, your files are synced across your devices and accessible in real-time.
3. File recovery: Have you ever accidentally deleted a file and then started work from the beginning? If you have a Dropbox account, that is not a problem anymore. Dropbox stores copies of all deleted files and folders for 30-180 days.
Dropbox offers a developer platform called Dropbox API that provides functionalities for building applications and automating workflows. Using the API, you can automate file uploads, downloads, sharing, and collaboration tasks. It also offers webhooks and events to trigger actions based on file events.
Costs
Dropbox offers five flexible payment plans, ranging from $9.99 monthly to $24 monthly. You can choose according to the features you need.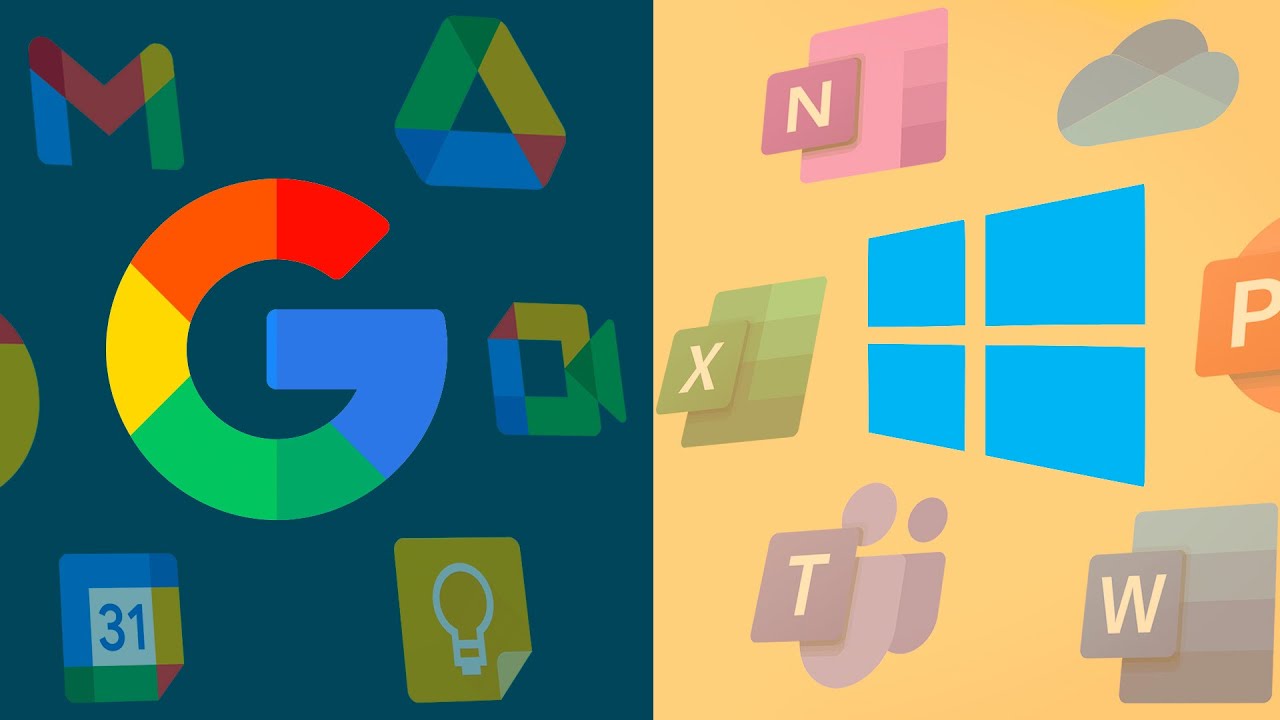 Also, we cannot forget to mention Google Drive and Microsoft 365. Old but gold, well-known tools for document management. While these platforms themselves may not be considered comprehensive automation tools, their APIs and integrations allow developers and users to build automation solutions by leveraging their file storage, collaboration, and document management capabilities in combination with other automation tools or custom scripting.
Using Google Drive and Microsoft 365 can significantly contribute to work automation by providing various features that enhance productivity. Such features as cloud storage and collaboration, document automation and templates, integration with productivity apps, data analysis, and visualization allow you to automate repetitive tasks, streamline workflows, and improve overall work efficiency.
Final Thoughts
Automating your work or daily tasks using the right tools can significantly empower you and your company's productivity. The key is to evaluate each of these tools and choose the one that best meets your needs.
In this article, we have listed the best automation tools in 2023 that you can use for your daily life and work tasks, each offering unique features and benefits. Whether you're a business professional, an entrepreneur, or a tech enthusiast, the power of efficient automation tools cannot be underestimated.
Don't forget: Work smarter, not harder. Implementing the right automation tool for your business can make all the difference in achieving remarkable growth and success and significantly empower your productivity.
Make sure to visit our blog to stay up-to-date with the latest innovations in the technology field and learn how to leverage them for maximum productivity. To harness the full potential of automation, it is crucial to partner with a reliable software development company. To learn more about how our automation tools can revolutionize your productivity and efficiency, contact us today.
Whether you need a unique software solution, an automation tool, or a customized application, the expert team at Oneest can make your ideas a reality.