Over time, a number of factors, including technological advancements, economic changes, and societal expectations, have significantly shaped the way we work. From the era of agriculture to the industrial revolution and the rise of the service economy, the nature of work has undergone a series of transformations, each with its own implications for work-life balance.
It is crucial to emphasize that the status of work has changed over time, determined and influenced by the level of socio-economic and social development of the people who were working at the time. Work remains a fundamental value that has the ability to characterize all spheres of life and human evolution at various stages of development.
As the labor market continues to evolve, more and more companies are adopting remote work as a viable option for their employees. The benefits of remote work are clear: increased flexibility, reduced commuting time and costs, and a better work-life balance. The truth is that "remote" doesn't necessarily have to mean "at home". There are several alternatives to working from home that can provide remote employees with a change of scenery and a fresh perspective. Shared workspaces, for example, offer a professional and collaborative environment where remote workers can work alongside others in their field (coworking).
Coworking spaces are shared workspaces where individuals from different professions or organizations can work together in a collaborative and flexible environment. They are designed to provide a community for remote workers, freelancers, entrepreneurs, and small business owners who are seeking an alternative to working from home or in traditional office environments. Coworking spaces offer a variety of amenities, including high-speed internet, printing and scanning facilities, conference rooms, and social areas. They are also equipped with ergonomic furniture, sound insulation, and other features that ensure a comfortable and productive working environment.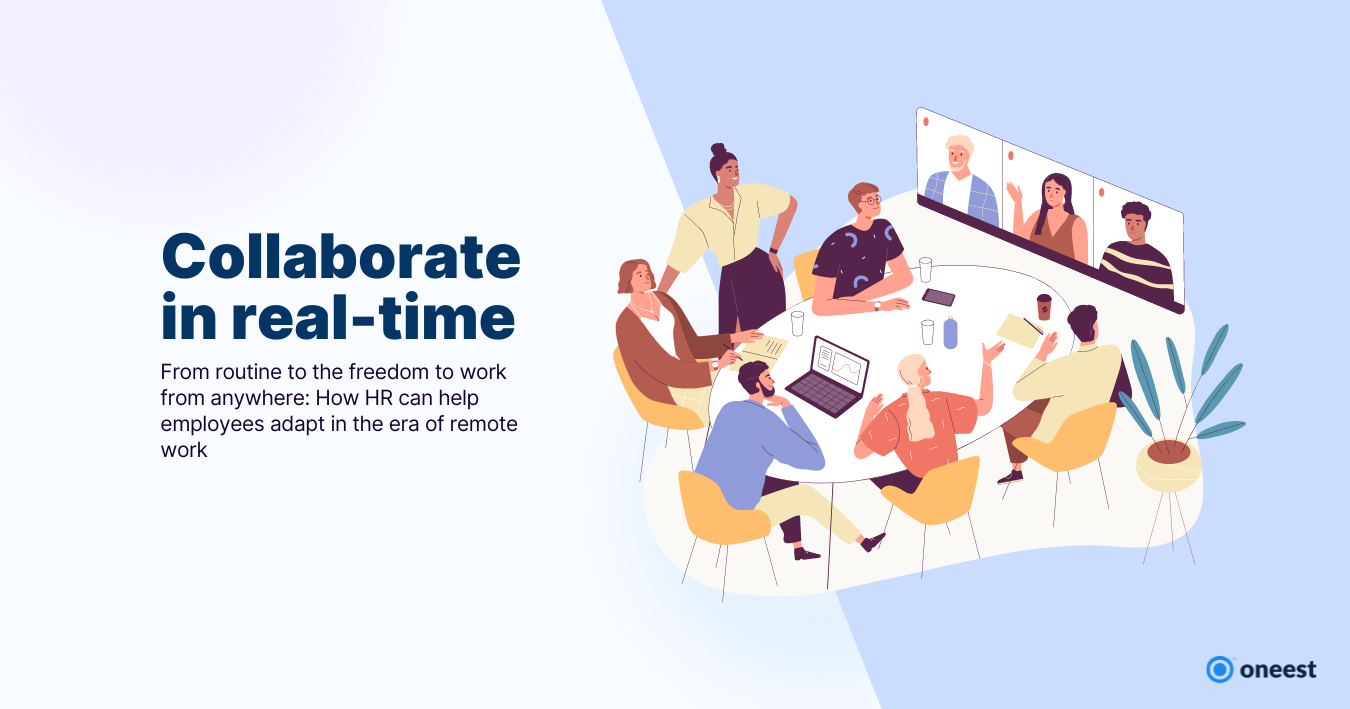 Remote work: How HR can help
Human Resources (HR) can support employees in the new order of work by offering flexible work arrangements beyond simply allowing employees to work from home. Another important aspect of HR is creating a strong culture of communication and collaboration among remote employees, which we do at Oneest. This can be achieved through the following actions:
Regular check-ins;
Team-building activities;
Offline meetings in the office;
Using technological tools such as video conferences and chat platforms;
Project management software, etc.
It is also important for HR to provide resources and support to remote workers to help them maintain a healthy work-life balance. This could include the following:
Offering wellness programs;
Resources for mental health and stress management;
Guidance on setting boundaries between work and personal time.
Remote work can take various forms, from working at a coffee shop or a coworking space to traveling and working from different locations around the world. By recognizing and supporting these different forms of remote work, HR can help employees feel more empowered and engaged in their work.
Why we chose to adopt the hybrid workplace model
We wanted to make sure our employees had a work environment that met their changing needs and preferences. So, we tried to find a good balance between flexibility and collaboration. We've found that adopting a hybrid approach allows our team members to choose where they want to work. It's all about creating a collaborative and cohesive work culture.
Flexibility was a major factor in our decision-making process. Everyone has their own unique work preferences. Some people really enjoy working in a traditional office environment, while others prefer the freedom and independence of working remotely. We're excited to offer a hybrid model that meets the individual needs of our employees. This way, they can work in a way that boosts their productivity and promotes their well-being.
However, we also value the importance of collaboration and teamwork. We truly believe that face-to-face interactions and shared physical spaces can enhance creativity, innovation, and the exchange of ideas. In-person connections foster strong relationships among colleagues, leading to increased engagement and a sense of belonging.
At Oneest, we encourage employees to make the most of the opportunity to diversify their workspace; many even work with their pets nearby. Studies have shown that interacting with pets, including cats, can help reduce stress levels. Having a cat nearby while working can provide a sense of calm and comfort, which can help reduce feelings of anxiety or tension.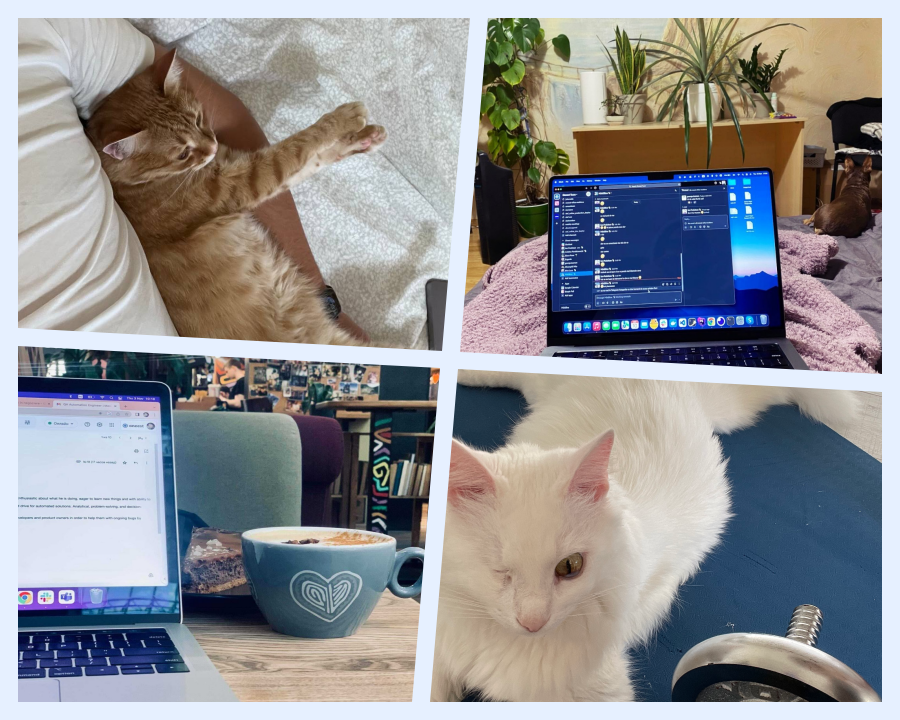 Oneest's Experience
The choice to adopt the hybrid work model was driven by our commitment to providing the best work environment for our employees. Our team has not only embraced remote work, but we have also smoothly integrated it into our exciting work culture. We have a diversified team of remote colleagues, and we can certainly declare that the quality of their work remains great.
Despite the physical distance, we have put in place powerful communication and collaboration mechanisms to guarantee that team members connect effectively. We maintain ongoing contact and build a strong sense of community by using video conferences, chat platforms, and project management tools. If you're interested in optimizing communication within your remote development team, we invite you to read our article, where we provide valuable insights and practical tips for ensuring seamless communication and collaboration within remote teams.
Our remote colleagues are completely integrated into our projects, bringing their unique ideas and experiences to the table. Our team members' passion and professionalism have continuously sustained our high standards of quality. We believe that remote work can be just as effective and productive as traditional in-office work, and our experience at Oneest proves that.
Concluding remarks
The key to successfully supporting remote employees is recognizing that remote work is not a one-size-fits-all solution. By providing a range of flexible work arrangements, promoting a culture of communication and collaboration, and offering resources and support for work-life balance, HR can help employees feel more engaged and empowered in their work, regardless of where they choose to work.
As a leading custom software development company, Oneest understands the importance of providing comprehensive support and developing useful instruments for remote collaboration. Our expertise enables us to create tailored solutions that enhance communication, streamline workflows, and boost productivity in remote work environments.
Are you ready to change your perspective on how you work? At Oneest, we embrace a hybrid work model, so we invite you to join our team.