Total upgrade of the flight booking system for an airline company
Industry: Aviation
Services: UX/UI Design
Client
FLYONE - A low-cost airline company that currently operates flights to 14 destinations, 10 regular routes, and 4 charter routes.
The company came on the market with a safe, comfortable, and affordable flight alternative to the most important destinations in Europe and Asia, provided by qualified operational, technical, and financial-commercial staff.
The context
In 2019 FLYONE decided to adopt Navitaire's New Skies ready-to-use booking system with comprehensive retailing, analytics, and passenger personalization tools. A similar system is already used by over 60 of the world's leading low-cost and hybrid carriers.
According to the company's press release, "with the move to Navitaire solutions, FLYONE expects to further strengthen its low-cost structure while enabling it to tap growth opportunities across Eastern Europe."
Challenge
In general, building a custom software solution for the airline industry is very costly and user-sensitive, this is why in the cases of low-cost airline companies it's sometimes better to use ready solutions that only need to be integrated and adapted to the company's needs.
And this is what FLYONE decided to do by adopting the leading solution in the industry - Navitaire's New Skies.
The main challenge with this is the poor user experience that the platform offers by default. So to back up its mission, FLYONE needed a new design concept for its flight booking system, a modern design concept that would offer a pleasant and already-known experience to the users in the booking process, and here's where we came into play.
Solution
As the interface of the flight booking system for an airline company is practically the most important part of the business, we conducted an in-depth product design discovery phase with the main goal to gather information about the target audience, competitors, market trends, and define the problem from users' perspective.
We efficiently organized initial workshops with the client & development team representatives and with this information, we could create rough sketches/ wireframes to visualize the layout, navigation, and functionality of the system.
In the next step, we developed the prototype and carefully analyzed how a selected number of users engaged with the system. By this, we could identify early user feedback and implement needed changes.
An important part was performing user testing to identify usability issues and refine and improve user experience. Through an iterative process, we successfully delivered a highly intuitive, engaging UX/UI design that offers a unique & pleasant user experience to travelers.
Once the interface design was implemented by Navitaire's development team, we performed User Acceptance Testing to ensure that it meets our users' needs & expectations and were extremely happy with the results.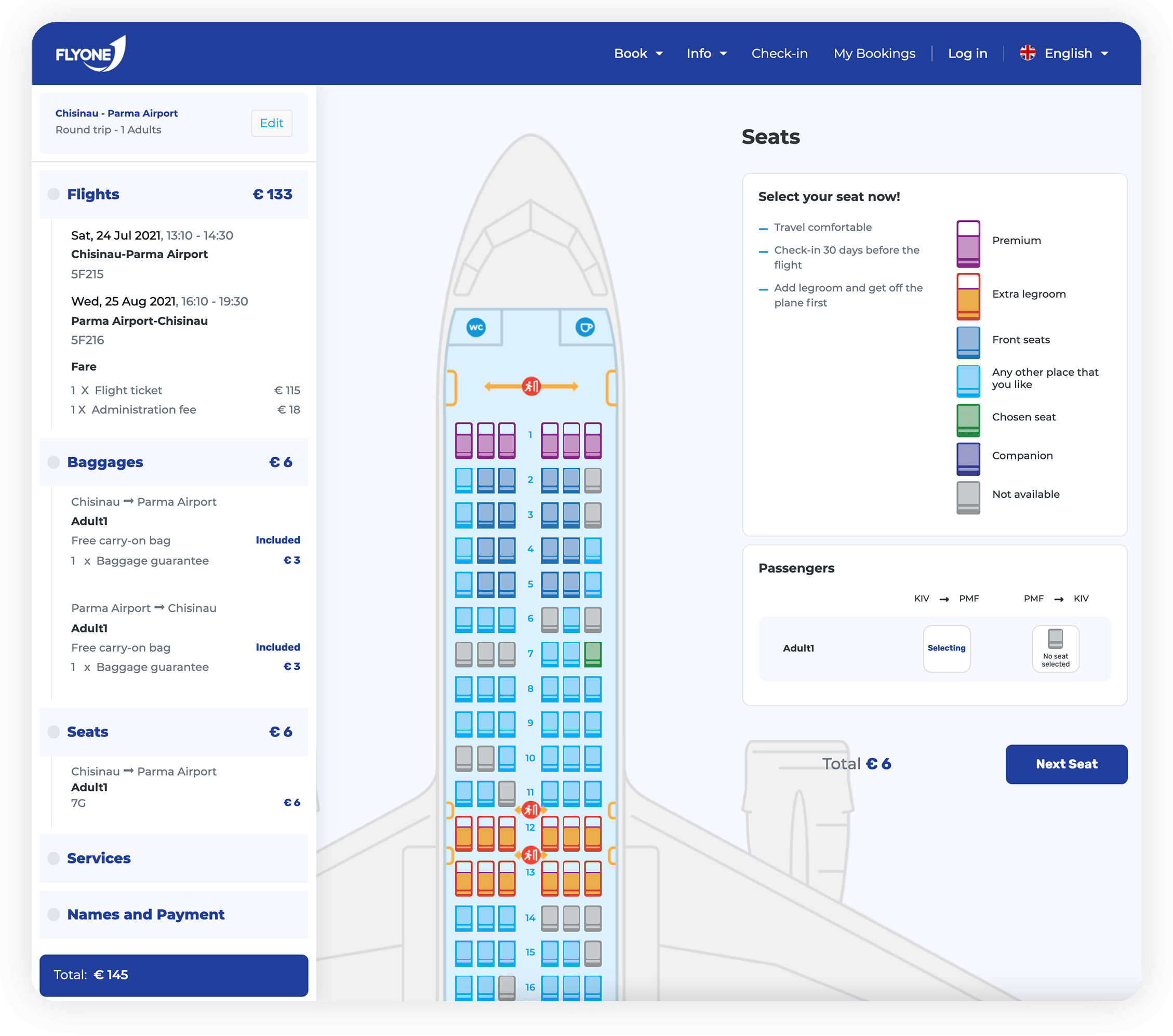 Result
Oneest team has developed a new interface focused primarily on user experience. A modern and high-quality UX/UI design that makes the ticket search and reservation process much easier and more accessible. The basic functionality of the search has been significantly improved by reducing the number of steps in the booking process.
On top of all these, we consider an important achievement the fact that in the first three months after the launch of the newly redesigned platform, the sales of FLYONE have doubled, all thanks to the exceptional user experience provided.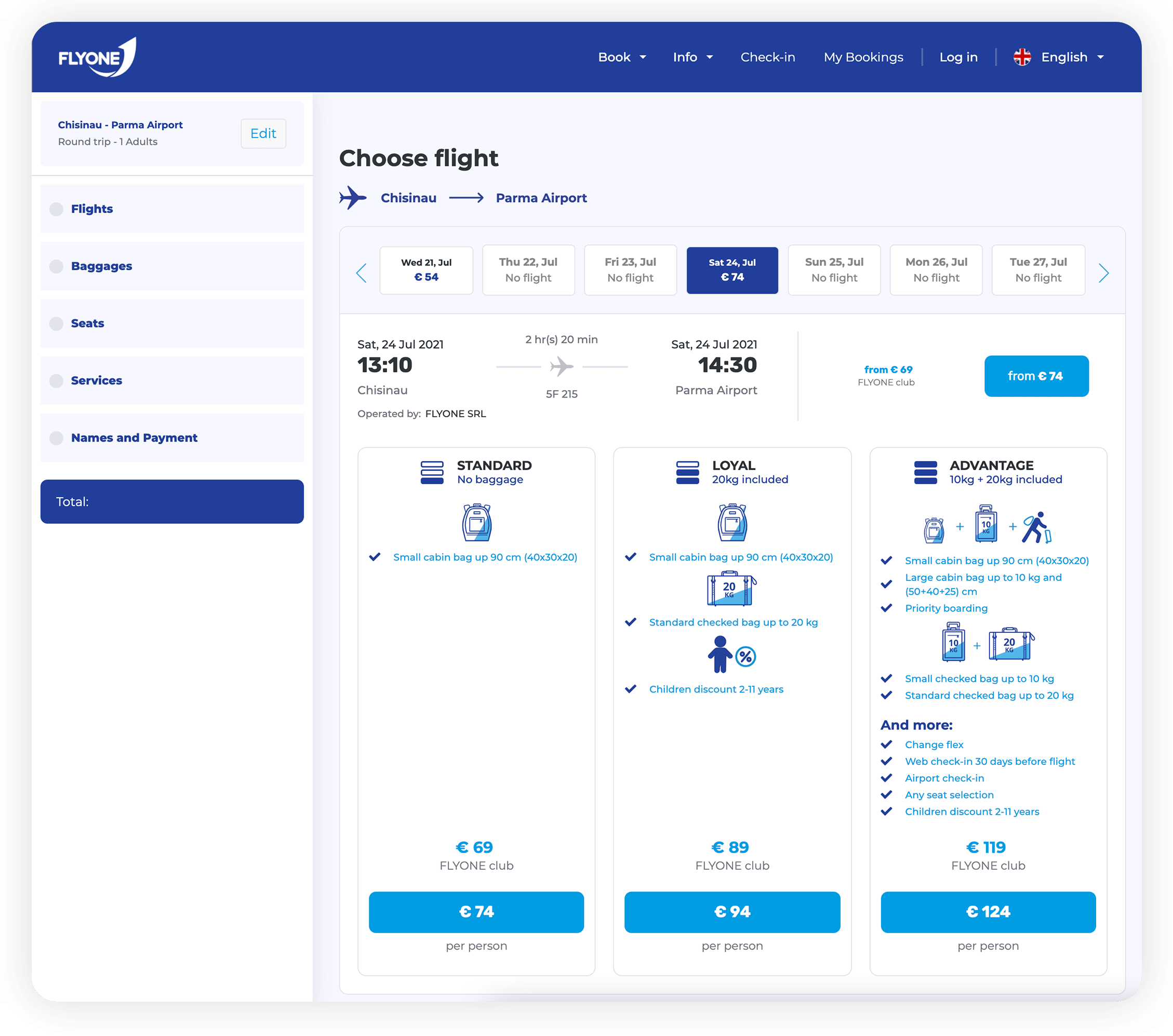 Are you interested to learn more on how we can help you achieve same results and drive revenue through UX/UI design services? Contact us!
Build with us quality software
Unlock the next level for your business. You're one click away.
Hire us to build you quality software
What will happen next?
1. You get contacted by our BDE in less than 24h
2. As soon as the NDA is signed, we kick off the project discussion
3. Challenge accepted! A dedicated team of seniors in custom software development evaluates your requirements and recommends the optimal ways to transform your idea into real functional software
Eugenia Surucinski
Business Development Executive
Drop us some details on your project